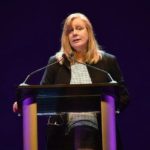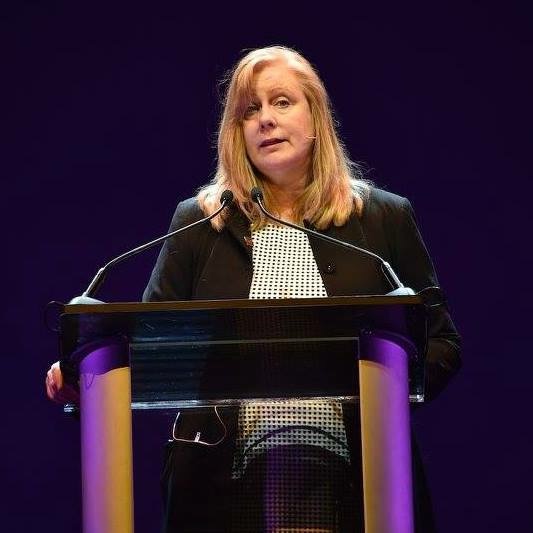 Chair Candidate Statements
Elynmarie Kazle (Akron, OH) – Incumbent Chair
It has been my honor to serve as your chair of the SMA for the past two years. Our team has worked to update business operations, expand educational offerings, networking events and symposia; expanding our reach into the professional community. In my travels across the country it has been my great pleasure to engage many more hands and minds into the work, making the load lighter for all as we strive to improve the profession of stage management. Looking forward, I hope to support regional development, expansion of "View from the Wings" Symposia, returning ongoing programming to NYC, and collecting valuable professional history while continuing to build the brand of the SMA.
Bio:  Elynmarie Kazle has been a stage and production manager for over 25 years working with theatres such as BAM, Great Lakes, and Cleveland Play House, San Diego, Columbus and Long Beach Operas and dance companies including LA Classical Ballet. She earned a technical theatre BFA from University of MN, Duluth and a Masters in Theatre Management from Ohio University. Kazle created two successful (ongoing) stage management mentoring programs at the collegiate and high school level and helped create two Regional arts recognition events, the Los Angeles Ovation Awards and Akron's Arts Alive.  One of her signature accomplishments was facilitating the development of the MCC Contract for Choreographers, while running the west coast office of the Directors Union (SSDC). A Fellow of the United States Institute for Theatre Technology, she has served their board in multiple capacities.  Elynmarie places a high value on volunteer service. Currently she is Professor of Production where she trains stage and production managers at Ohio University, Her latest professional projects are Production Manager of Region 4 World Fest and this summer's Akron Civic Theatre's Musical, Beauty and the Beast.
1st Vice-Chair Candidate Statements
Mandy Berry (New York, NY) – Incumbent 1st Vice Chair
I am a long-standing member of SMA and running for a fourth term on the executive board as a chair. With the SMA I am Chair of the education committee, heading the mentoring program as well as working on operation observation and Ask a Stage Manager, I am also on the social committee. Outside of the SMA I have worked stage managing theatre, dance, opera, Cirque du Soleil and corporate events.
Thank you very much for considering me as a chair for the SMA. I am looking forward to continuing the work the board has done this past year.
2nd Vice-Chair Candidate Statements
Hope Rose Kelly (Lenox, MA) – Incumbent 2nd Vice Chair
I'm excited for the opportunity to run for 2nd Vice Chair for a third term. I've been a member of the SMA for several years (served as Co-Secretary for 3 of those years), a member of A.E.A. since 2002, and stage managing since I was a sophomore in high school. My work has been centered on regional theatre in the Northeast. Along with stage managing shows, I continue to train and mentor young Stage Managers (high school and university level) and conduct workshops in the communities that I visit and work in. During the years that I was Co-Secretary, I organized various workshops and panels on topics – stage combat and navigating unemployment being examples. Being on the Board helped me to realize how easy it can be to put together these events if you have the determination and interest. And what I and many others try to get across to the membership is that this organization is only as useful as what the members make it to be. During the past couple of years as 2nd Vice Chair, I been soliciting various members to write articles for the SMA website. I see this as a wonderful opportunity to expand our networking and training tools which would make this organization even more beneficial and a more relevant resource for Stage Managers across the country (students and seasoned professionals alike) and to the companies and people who employ us. I also feel that the SMA can continue to be a major conduit to A.E.A. (and other unions that Stage Managers are a part of) so that we are all well informed and represented in the issues that concern us – especially in the regional areas. And that brings me to another reason why I am once again running for a position on the Board, to help further represent the membership from the region – not just NYC.
I encourage each and every one of you to take part in this election and I thank you deeply for considering me (again!) to be a part of the Board.
Recording Secretary Candidate Statements
Paige Royal Barnes (New York, NY)
It is with great reverence that I, Paige Barnes, pursue the position of Recording Secretary of the Stage Manager's Association. As a freelance stage manager in New York City and an arts administrator at the Dramatists Guild Fund I find myself inspired to support others and I would like to extend that passion to the SMA.
The Stage Manager's Association has provided me a place to network and learn. I have attended several drink nights, attended a meeting to discuss the new constitution and by-laws and participated in the booth at the Broadway Cares/Equity Fights AIDS Flea Market. I never walk away from a drink night, a meeting or a fundraising event with any fewer than one million ideas and plans and goals. This inspiring group of people is the reason I am in New York City and I would love nothing more than an opportunity to give back. The hard work I have seen from individuals promoting our art – because yes, what we do is an art – makes me want to tell young people "You can have it all. Be a stage manager."
I hope to start giving to this organization by becoming one of the Co-Secretaries in the New York area. I know all of you are exhausted with elections in your daily lives so I thank you for your time in reading my statement and hope you vote for me, Paige Barnes in this upcoming SMA election.
Joshua Hardwick (Seattle, WA) – Incumbent Western Region Director
After serving 4.5 years as your Western Regional Representative, I felt it was time to move on to an executive position. I am proud to see 2 candidates running for my current position.  That shows that I have done a job well done bringing more involvement in the West.  During my time I have brought on two new benefits (Virtual Callboard and BMI Supplies) and working hard to find more.  Developed working relations with Theatre Bay Area and Theatre Puget Sound (two regional theatre organization fostering the needs for all local theatres in their region) to work to advance an understand of Stage Managers and their unique needs.  When it comes to experience as a secretary I have served as Board Secretary/Community Outreach Chair with San Francisco LGBT Pride Celebration from 2008-2010.  Prior to that I served 10 years with California Teachers Association in various roles as a Student Representative, State Council Rep (2 terms) and Northern Regional Vice President (2 Terms) and various local positions as President at a few college campuses locals.  Amount of political office I held while in College and High School (Legislative Director, Student Trustee, and President).  I continue to focus on working hard for the membership to continue to grow the West and work to increase benefits we offer our members. A successful association works to get their members engage and give them purpose.  I am working hard to make sure Stage Managers are recognized for their value and purpose.  As a non-equity member on the board I know that many parts of the US view SMs worth (monetary) very low and that needs to change.  As dialogue with Theatre Owners and Artistic Directors/Managing Directors increase across the nations we will see change.  My conversation with several have just been, "they never knew," or, "No one told them how to figure out a way to pay them."  Together, we can make change for the better and be the voice we know we have inside.
Corresponding Secretary Candidate Statements
Robert Neapolitan (New York, NY)
A California native who moved to New York in October 2015 to follow his dream of being a Broadway Stage Manager, brings experience, technical skill, passion, and a notable calm to his theater productions and office environment that have earned him distinction at Marymount California University for Rumors, Festival of One Acts, and Picnic, where he received Academic Excellence in Theater Arts three consecutive years (2011-1014). He also knows life in the small theater through the productions of Ghost in the Meadow at The Little Fish Theater (San Pedro, CA), and It's All in the Mix at All Terrain Theater (Oakland, CA). Robert Neapolitan's New York Productions include Body Parts a series of… at Dixon Place (New York, NY), City Girls and Desperados at The Secret Theatre (Long Island City, NY), and Orpheus Descending at St. John's Lutheran Church (New York, NY).  Aside from his Stage Management career Robert has interned for chashama and is also the Booking Manager at the Secret Theatre.
Roberts Neapolitan's attention to detail, clear writing, and ability to comprehend makes him an excellent candidate for the secretary position. Robert's capabilities and perspective about people and situations have been strengthened through his academic focus on Global Studies and Psychology, Marymount California University.  With each production that he is a part of his passion for the tack and technical execution it requires to excel at Stage Management grows. He believes that Stage Managers should be given the same rights as actor if not more as they often spend many a sleepless nights to insure a productions completion. Through the secretary position Robert Neapolitan hopes to become a proponent of change for all Stage Managers.
Adrienne Wells (Plattsburg, NY) – Incumbent Corresponding Secretary
For the past two years it has been my pleasure to serve as a Co-Secretary for the Stage Managers' Association. During this time I have watched the organization grow and continue to develop. One of our greatest strengths as an Association is our member diversity. We hale from across the United States and the world (yes, we have international members). We manage across disciplines; theater, events, circus, opera, and dance to name a few.  We have a broad range of experience, from student members that are just beginning a career in Stage Management to members that are being recognized with lifetime achievement awards in the field.
I am committed to the continued development of an organization that serves all its constituents and furthers the field of Stage Management. My goal is to assist in developing, and facilitate member utilization of, a full spectrum of resources from which members can benefit. Additionally, I will continue to support our national efforts for Stage Managers to network and provide both professional and personal support to each other.
It would be an honor to serve on the board for another term as your Corresponding Secretary.
Treasurer Candidate Statement
Bill Hare (New York, NY)
I'm delighted to stand again for the position of Treasurer.  This has been a very exciting year with increased membership and growth both financially and geographically.  It has been both a pleasure and an honor to serve with this highly committed, activist board.  Next year promises to be ever more expansive as we explore additional avenues of growth and further opportunities for service to our fellows.  Our ambitions are great while our resources are modest, but I'm convinced that with careful and responsible marshaling, we can take great strides toward realizing our ambitions.
Director-at-Large Candidates Statements
Melissa A. Nathan (New York, NY) – Incumbent Director-at-Large
As a long time SMA Board Member, I am excited for this opportunity to once again run for Member at Large. I have done a lot in my first term, including (but not limited to) representing the SMA at USITT, serving on the membership committee, and planning social events in NY and around the country. My work in regional theatre, has led me to mentoring young stage managers, acting as a guest lecturer at various colleges, and teaching Stage Management at the University of Memphis.
In addition to continuing my work with the Membership Committee, I have a number of ideas to help make more people aware of the SMA's presence. I believe this organization is a great asset to stage managers in various degrees of career and we can help each other in ways no one else can.
I hope you re-elect me as a Member at Large and thank you in advance for your vote.
Jan Wolf (Cleveland, OH) – Incumbent Recording Secretary
More than a year ago, Elynmarie Kazle persuaded me to run for the position of Co-Secretary.  Having been fortunate enough to be elected to the position, I soon realized the full extent of the job.  It has been a challenge for me, Luddite that I am!  That being said, I have very much enjoyed being more actively involved in the business of the SMA and getting to know more of the members.  I want to stay connected.  To that end, I have chosen to add my name to the list of candidates for Member-at-Large.
I have been a member of the SMA for many years.  I was encouraged to join by Rich Costabile when we were working together at the Great Lakes Theater Festival in '86.  I've been a big fan of the SMA; but, being resident in Ohio, I hadn't felt it was practical to be involved in the governance aspect of the organization.  Thankfully, technology has made it possible and practical for folks to communicate from greater distances.
Although there are few Equity stage management positions to be had locally, I keep my hand in by stage managing at other venues not under the aegis of Equity.  I've done dance benefits, men's chorus concerts and a number of special events and benefits.
Over the years, I have attempted to create a stage managers' night out event but without much success.  With Elynmarie's greater visibility in the community, we are hoping to re-activate the idea.
In my "other" life, outside of the theatre, I have worked as an executive assistant for several CEOs of small non-profits.  I am partially retired and believe that I now have the time to devote to being part of the awesome group of folks who are keeping the SMA moving forward and making a difference in the theatrical world.
Rachel Krupnick (Howell, NJ)
Hello! I am a theater educator and stage manager from New Jersey. I currently teach at the college level. I am involved in various state theater organizations at the high school and middle school level. I have served on several committees at the college and organization level. I am excited at the prospect of serving on the SMA board.
If elected to the SMA Board, I intend on working on outreach/recruitment. I think this is an awesome organization with great potential. I intend on spreading the word to potential members. I would also like to establish and/or solidify connections to other organizations.
I would also contribute to the discussion of pathways into professional stage management. This would include degree programs, mentorship, apprenticeships, and internships. I feel this is a place where we can help new stage managers. As an example, we can identify a SMA-recommended curriculum that colleges could start from and modify to their strengths.
I would love to help with professional development courses or workshops to offer to members. There is a lot we can learn from one another!
Additionally, I will happily serve on committees and help the SMA in its mission as needed.
Eastern Region Director Candidates Statements
Tina Shackleford (Pittsburg, PA) – Incumbent Eastern Region Director
I seek to continue serving the SMA representing the Eastern region. My past three years on the Executive Board have given me insight about the SMA and its activities. I have enjoyed meeting and talking with stage managers throughout the region and look forward to even more connections.  My goal is to increase conversations about how the SMA can serve its members throughout the region.  I applaud the increased relationship between SMA and USITT.  As the incoming Commissioner for Management I hope to find ways to take that even further to benefit the SMA's outreach, membership and professional development. I thank all of you for the opportunity to continue my service.
Central Region Director Candidates Statements
Joseph Drummond (Chicago, IL) – Incumbent Central Region Director
After 42 seasons as a production stage manager at the Goodman Theatre in Chicago I shifted into retirement this past March. I have served as the Central Region Rep for the SMA for the last 3 years. Working full time and meeting the demands of serving on committees and meetings were not always easy but necessary to keeping the SMA as a viable organization to serve all stage managers.
I have learned a great deal firsthand about the inside workings of the SMA and support Elynmarie Kazle's desire to get stage managers from coast to coast involved and active.  I am working to educate as many new and experienced stage managers to the value of belonging to a national organization. Stage Managers in every region are doing the same job; taking professional ownership of each production they work on but are sharing some of the same roadblocks and frustrations. One way to work together to eliminate these bumps in our careers is to join forces.
As a stage manager in the Midwest and long time member of the SMA, I have been on the receiving end of exceptional work done by New York City members over the years and I personally want to continue to give back. To quote the SMA website: "You'll get more out of the SMA when you put more into it." That's exactly what I would like to continue to do as a representative from the Central region.
Western Region Director Candidates Statements
John Gruber (Las Vegas, NV)
I have been a member for only a year, but I feel like I can see the potential for what SMA could be in this part of the country. I want to put in the effort, build up our organization's western network by expanding on what Joshua has already built, and connect various theatrical communities of stage managers through both inter-personal and social media means.
The "A View from the Wings" workshops are an excellent tool for this level of engagement, and could easily be utilized in several cities in the West (beyond Chicago and NYC) all of which I'm happy to accomplish with local support. The Post-A-Job database is excellent, but what else could serve our members?
Aside from expansion of workshops, I would like for us to:
Find ways to review & highlight SM educational programs, a form of "Stage Management Training Database" where we list those schools that have a formalized training program (apprenticeship, undergrad or grad) and post the strengths and educational perspective the teacher has for our field. This can help the student make a more informed choice on education, and can also help match the educator with students that share their perspective.
Potential classroom materials without being an advertisement for specifics. Textbooks exist, but I'm thinking of an SMA-sponsored packet that can guide the less formal SM instructor (the TD who is suddenly in charge of SM training, for example). This process can also guide a conversation between what the professionals are looking for in hiring, and the educators are in training.
Together we can evolve our organization and thusly the way our craft is taught and employed in the United States, building something together that will make the lone stage manager feel well-trained and supported by a network of fellow managers.