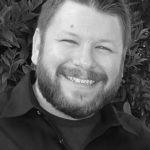 January 2017
The Board of the Stage Managers Association welcomes to the board, – new recording secretary, Joel Veenstra.
Joel, who joined us in late 2016,  is a professional stage manager, production manager, and improviser. As an AEA stage manager, he has coordinated collaborations with renowned regional theaters including Oregon Shakespeare Festival, Pasadena Playhouse, and Richard & Karen Carpenter Performing Arts Center. He also stage manages large scale galas including the Legacy Awards honoring Tom Hanks and Lisa Cholodenko, the California Science Center's Discovery Ball featuring the Space Shuttle Endeavor, and the Detroit Party featuring Keegan Michael-Key. Joel teaches stage management, collaborative production, and improvisation at the University of California, Irvine.
Veenstra replaces the outgoing recording secretary Joshua T. Hardwick who left us to take on new responsibilities in Seattle.  Joshua served the board for a number of years as both West Coast Rep and more recently, as Secretary.  We wish Joshua the best of luck in his endeavors.