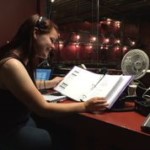 Brittany M. McMahon wrote the following article about her experience with the USITT Stage Management Mentoring Program. You can read Tom Kelly's account from his perspective here: https://www.stagemanagers.org/2014/09/24/usitt-stage-management-mentoring-experience/ I asked Brittany how she got this opportunity and she responded:
While attending USITT, I stumbled upon a booth offering an event called the Find A Fellow Mentorship Program. I discovered that as a Student or Early Career registered attendee, you could complete a worksheet to submit for a drawing to win the grand prize: A two-day all expense paid trip to mentor with an experienced professional in your field of theatrical work; if possible, a fellow of the institute. The entire program was developed to help the younger generation of up and coming professionals to realize the importance of networking. For two lucky individuals, it would also be a chance to win the grand prize.
The worksheet was actually a collection of 6 photos from 6 USITT Fellows' pasts. The idea was that you were to speak with a number of USITT fellows and then guess if one of the photos was the Fellow you were speaking with. If you guessed correctly, they would sign their name down on the worksheet. With all 6 signatures you could turn in the worksheet and enter the drawing. My name was picked out of the stack and thus began my great adventure to The Berkshires and studying from Thomas Kelly himself!
Here is Brittany's account of her time in the Berkshires this summer:
My time spent in the Berkshires with Tom Kelly can best be described as enlightening, eye opening, and ultimately an inspiring experience. During my time, I was able to enjoy countless conversations with Tom, ranging from personal experiences, to unions, developing relationships with cast/crew, scheduling, paperwork, and beyond. Over the course of two jam-packed days I was able to fully immerse myself into one of the many worlds of professional theatre and have the rare opportunity to view the processes of shows I was not intimately involved in.
On the first day I enjoyed breakfast and theatrical conversation with Tom Kelly. Our first stop was Shakespeare and Co. for a guided tour, which is offered to the general public as an educational experience. It provided me with a background of the company, as well as a view into their extensive facilities. I was able to shadow and work with the stage management team here, where I was welcome to view fight call and music rehearsals, observe the set up and preshow duties, and ultimately view the show from the booth while listening in via headset. I had the pleasure of watching first, an adaptation of Henry IV and second, an adaptation of A Midsummer Night's Dream. While both shows offered their own challenges and rewards, I really enjoyed the way Midsummer seamlessly adapted into the warm night and music of New Orleans in the 20's/30's. Being very familiar with Southern traditions after growing up in the Baton Rouge/New Orleans area, this show was a real treat.
On the second day, I was able to travel to the Berkshire Theatre Festival and meet with their production manager and his assistant, as well as receive a tour of their operations. This provided me with a view of a more traditional set up, rather than the facilities at Shakespeare & Co. being more attuned to the classical works. After our tour of BTF, I was able to spend the day immersed in the productions at the Bernstein Stage at Shakespeare & Co. This day ran much like the one before, where I was able to view the inner workings for Vanya and Sonia and Masha and Spike as well as a unique and wonderfully executed adaptation of Julius Caesar.
Overall, this was an incredibly rewarding experience that has taught me much about the professional world. I was able to make connections with real people who are working in the real world. The knowledge I've gained over those two days is invaluable and I have no doubt I will be utilizing it for the rest of my life.
I would like to say how thankful I am to the cast and crew of each production as well as the entirety of Shakespeare and Co. for letting me, a stranger, come into their world and view their work from the inside. I was granted access to every corner of the company including facility tours, fight calls, warm ups, and post show chats. This insider access allowed me to have a feeling of full immersion and for an instant; it allowed me to be a part of them. Thank you.
I would finally like to thank USITT for their help in making this trip a reality. Having the opportunity to view all of these productions and their different management teams, who all have different styles, ultimately helped to further reinforce that there is no one way to accomplish things as a stage manager. You have to be willing to adapt yourself to the needs of your show and ultimately to the personalities of those you are working with.
I look forward to exploring what my future holds!
With Sincerest Thanks, Brittany M. McMahon
Currently, Brittany is working as a stage management intern for the B Street Theatre in Sacramento, CA until June 2015. Working as a PA on Equity shows, running rehearsals, and of course making coffee are among her many duties. She looks forward to learning all that she can and to eventually become an Equity stage manager. She is very excited for what the future holds with B Street and beyond!