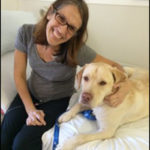 Andrea 'Spook' Testani, a well-known stage manager and member of the Broadway community, died Sunday night, due to Stage 3 colon cancer. She was home, surrounded by her family, friends and her beloved dog, Jake.  Your incredible outpouring of love, all your thoughts, energy and prayers made this painful journey much easier to bear.  Spook read every "hug", every message, every donation and was literally overwhelmed.  Your cards, your encouragement and your generosity gave her the strength to fight.  As you can imagine, Spook was couragious and gracious every single day.  Her amazing compassion for others, her gentle kindness, the way she made everyone around her feel like her friend and yes, her determnation never waivered.
Spook recently served as the production stage manager for the 2008 all-star Broadway revival of ALL MY SONS, which featured John Lithgow, Dianne Wiest, Patrick Wilson, and Katie Holmes; the beloved, Tony-winning musical THE 25TH ANNUAL PUTNAM COUNTY SPELLING BEE in 2005; MATCH with Frank Langella in 2004; and I AM MY OWN WIFE, starring Jefferson Mays, in 2003. Her other Broadway stage managing credits include FRANKIE AND JOHNNY IN THE CLAIRE DE LUNE, THE MAN WHO HAD ALL THE LUCK, DESIGN FOR LIVING, THE MAN WHO CAME TO DINNER, UNCLE VANYA and SIDEMAN.
In lieu of flowers, the family requests that donations be made to the Actors Fund in Testani's honor.