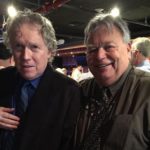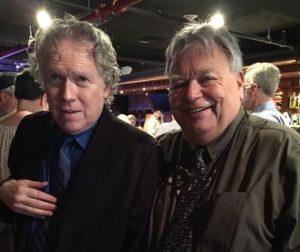 MEET THE WINNERS
This year, the SMA decided to focus on a particular kind of stage manager to receive its annual Del Hughes Award for Lifetime Achievement in the Art of Stage Management:  Two pioneers in the field of corporate meeting and special event stage management – David Piel and John Fennessy.  And, on the occasion of the SMA's 35th Anniversary, we will also give special recognition to Jane Neufeld for bringing her commitment, enthusiasm and insight to the founding of both the SMA and Broadway Cares/Equity Fights AIDS.
Mr. Piel began his theatrical career as an actor in his hometown of New York City. A graduate of the American Academy of Dramatic Arts, he made his Broadway debut in Joseph Heller's "We Bombed In New Haven" starring Jason Robards and Diana Sands. He went on to act on Broadway, National tours and Off-Broadway, as well as films, television and commercials.
When offered a job as an assistant stage manager for an event for Exxon, he grabbed it ("I needed the money") and for the next 40 years, became one of America's foremost stage managers and directors of business theatre and corporate conventions…known in those days as "industrials". His client roster reads like a who's who of the Fortune 500 (IBM, Ford, Pfizer) and the leading associations (AARP, AMA, etc.). He moved to San Francisco in 1982 to be closer to his then busiest client: The Shaklee Corporation. In addition, he has stage managed such major events as the National Political Conventions (both Democrats & Republicans), the opening and closing ceremonies of the Olympics and the United Nations 50th anniversary ceremonies.
Mr. Fennessy started his career as The Russian Tenor, in the original Bus and Truck of Fiddler on the Roof. He then stage managed Fiddler in Las Vegas for six months. Soon after, he joined the original cast of Grease at the Eden Theater as the ASM but also understudied and played every male role in the show. He performed the same duties on Over Here starring The Andrews Sisters. Other Broadway SM credits: Joseph and the Amazing Technicolor Dreamcoat, the notorious Got tu Go Disco and the legendary Frankenstein.
He has stage managed nearly one thousand industrials and special events including the Ford Centennial, Statue of Liberty Centennial, Super Bowl XXXIV Halftime; he directed and called The Coca-Cola Centennial, the largest industrial ever mounted.
He is an executive speaker coach to numerous Fortune 500 companies. Recently he returned to acting and won Best Actor at the First Run Film Festival for his performance in, Old Monster, opposite Sylvia Miles. In May he'll be appearing in Simon Stephens' Harper Regan at the T Schrieber Theater.
Ms. Neufeld currently resides in the Pocono mountains of Pennsylvania, where she has recently retired from volunteering for her local Ambulance Corps. She teaches CPR and First Aid courses and is active in local politics as an elected Township Auditor. But, as she says: "for over thirty years, I had the great good fortune to earn my living in theater!"
Starting as an off-Broadway techie in 1969, succeeding years were filled with work on Broadway, Off-Broadway and Regional theater as well as numerous special events and benefits. Notable shows she has worked on as a stage manager include the 1973 production of A Moon for the Misbegotten, Strange Interlude, 42nd Street, 7 Guitars and Twilight: Los Angeles.  She was one of the coordinators for the Best of the Best, a benefit for AIDS at the Metropolitan Opera House. When the fledgling SMA achieved five seats on AEA's Council solely for stage managers, Jane was chosen as one of the first five stage manager councilors.
Del Hughes (1909-1985) was an American theater performer, stage manager and television director.  Hughes made his Broadway debut in 1941 as a replacement stage manager and performer in the original play Tobacco Road at the Forrest Theater.  Prior to establishing his career as a stage manager, Hughes performed in several Broadway productions, including Vickie (1942), Yours, A. Lincoln (1942) and Open House (1947).  
Hughes managed dozens of Broadway productions, including the premiere of Arthur Miller's Death of a Salesman in 1949 at the Morosco Theater, as well as works by Lillian Hellman and Graham Greene.  In the late 1960s and early 1970s, Hughes directed episodes of the television dramas One Life to Live and All My Children.
In 1970, Del Hughes was nominated for an Emmy Award in the category of Outstanding Direction for a Daytime Drama Series for his work on All My Children.
The Del Hughes prompt books, archived in the Billy Rose Collection at the New York Public Library at Lincoln Center, date from 1943 to 1968 and represent twenty-four Broadway productions which played at various New York City theaters.
Upon his passing in 1985, his daughter, Julie Hughes, of the casting firm Hughes/Moss, consulted with the Stage Managers' Association about how to keep her father's legacy alive.  The result was the creation of the Del Hughes Lifetime Achievement Award for Excellence in the Art of Stage Management.
The recipients are chosen by the SMA's Recognition Committee and its Executive Board as representing the finest qualities of Stage Management: patience, diplomacy, organization and a sense of humor.
We are proud of this year's awardees and proud to continue our 35-year tradition of advocating for the work we do and recognizing those who excel at it.