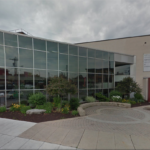 The following article continues a series devoted to stage management training programs (undergrad, grad, internships, etc.) across the country from the perspective of current stage managers who attended them. – Hope Rose Kelly (Editor-in-Chief)
Syracuse Stage – Syracuse, NY
Stage Management Apprentice 2013-2014
By Paula R. Clarkson
Syracuse Stage is a LORT C Regional Theatre located in Syracuse, NY. The season spans from about August-May, typically including six shows of incredible variety. Two people are hired for the Stage Management Apprenticeship position, who typically alternate shows, so one of you is in rehearsal while the other is in performance. The theatre also operates extremely closely with the Syracuse University Drama Department with many of those students interning on shows and, in some cases, even cast.
Being an Equity house, all rehearsals and performances are subject to the Equity rulebook, which is very helpful to learn for someone hoping to join the union. We rehearsed 6 days a week, usually in a 10:00am-6:00pm type of schedule. A week of tech would lead into a brief Preview period, and then the show would open. Runs were usually about a month, with seven shows a week as standard, including Student Matinees and specialty performances for the hearing and vision impaired.
I originally found Syracuse Stage while hunting for a large regional LORT theatre that had a good diversity to its season. Personally, I enjoy everything from new musicals to Shakespeare, but would prefer not to do the same genre month after month. Syracuse Stage seemed to have a real emphasis on doing works that were not only entertaining, but could really challenge their audiences and enrich their community. On top of that, I was excited about the connection to Syracuse University. This partnership was one of the very few that I came across, and since I knew I wanted to teach one day, it really seemed like the ideal opportunity.
The interview process was a pleasure. Even if I had not ended up with the job, I would still look back on that conversation very fondly. Stuart, the PSM at Syracuse Stage, was warm, funny and truly wanted to get to know me as a person. I didn't feel like any of the questions he asked me were a test and he genuinely seemed to appreciate my interest in his theatre. I had been lucky enough to have a few different interviews but after speaking with Stuart, there wasn't anywhere I wanted to be more. He was open about his timeline for interviewing others and I heard back about getting the position within the timeframe that he communicated. I was thrilled.
The position itself did not disappoint. A lot of season-long internships or apprenticeships that I'd looked at put you in a Production Assistant type of role, where you are assisting the SM and ASM. But as great as some of them looked, I felt confident that I wanted to go somewhere where I would have more responsibility than making coffee and doing line notes. At Syracuse Stage, it is only the PSM and the Apprentice throughout rehearsals. I did all the backstage tracking for the shows I worked, including props, costumes, live flame, everything. I created the backstage crew tracks, and oversaw the crew when they were added at tech. All the shows were different, really giving me the chance to grow and work on different skill sets. As I'd hoped, some shows had SM Interns from the University, so I was learning, while also teaching others. It was a lot of responsibility but never unfulfilling. Stuart, who is also a professor for the Syracuse University Drama Department, is an excellent teacher. Even in the throes of a 10 out of 12, he made himself available for questions or help if I needed it.
The perks of Syracuse Stage were also arguably the best of anywhere that I applied. While they do not offer housing, I was paid enough to pay my rent and utilities with under half of what I made a month – about two paychecks. That left the next two paychecks free for me to use for whatever other means I needed to. Being a college town, it was not hard to find a cheap place near the theater to live. There are also buses in and out of Syracuse to Boston, Ithaca, New York City, and tons of other places. I had a car, but there is a public transportation system that I know works just fine for those who do not have a way to get around on their own.
I found a community of artists at Syracuse Stage that I have rarely found elsewhere. Not only was everyone unbelievably dedicated to putting on high quality shows, but they really support and like each other. It was extremely rare for me to not spend my day off with the friends I had made from work. Having been out of the program for 6 months now, I am still in constant contact with the people I met and I expect them to be friends of mine throughout my life and career.
Writing this reminds me of how much I miss being there and working with all those amazing people. I am currently finishing my first semester at the Yale School of Drama focusing in Stage Management and I know that I would not be here without the year I spent with Syracuse Stage. It taught me an immeasurable amount about regional theatre, challenged me to take risks, helped me gain confidence and solidified my decision that Stage Management was what I wanted to do with my life.
I would recommend the Apprenticeship to anyone who is ready to take the next step in terms of responsibility on an SM team, is interested in regional theatre, and truly wants to be involved in art that is relevant and thought provoking.