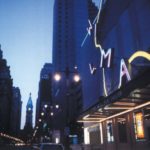 The following article continues a series devoted to stage management training programs (undergrad, grad, internships, etc.) across the country from the perspective of current stage managers who attended them. – Hope Rose Kelly (Editor-in-Chief)
The Wilma Theater – Philadelphia, PA
Stage Management Fellowship 2012-13
By Leonard Luvera
When I was searching for a job, I had a checklist list of essentials that I wanted to make sure were fulfilled: first and foremost a season-long position with good pay, summers free to travel and do summer stock, housing opportunities, a city with other theaters close by (I wanted to have the option of seeing other theaters and being involved in a larger theater-based community while making professional contacts with whoever I could), and a staff and production team that was adventurous and would help me grow professionally. I found that The Wilma Theater fulfilled this criteria.
The Wilma Fellowship pays $300 a week. You have the opportunity to be housed in the actor/artist apartments for a small rent fee in exchange for completing some simple company management tasks to keep up the building: taking out weekly trash, washing and replacing linens when artists move out, restocking apartments with essentials when new artists move in, and reporting problems/damages to the production manager and operations manager. The artist housing is located just three blocks from the theater so the commute to work was very easy. Rent was cheaper than finding a similar apartment in the otherwise expensive area. The apartment is right in the middle of center city, amid great nightlife, restaurants, other theaters, and beautiful parks. Because of these benefits, I found it to be a worthwhile alternative to finding my own housing in the city.
The Wilma was at the top of my list because I know they produce shows that challenge the actors, the production team, and the audience. Blanka Zizka, the Artistic Director, is fantastic to work with for this reason. She tests and inspires all who work with her. Blanka focuses on the actor's process and the show's evolution, which is far more exciting and engaging than only working towards a perfect product. She once reminded me that theater, like life, should be about the journey, not the destination, and has an incredibly inviting and relaxed demeanor and she made me feel as much a part of the production as she was. I had heard of The Wilma's reputation and Blanka's artistic philosophies because I went to school in Philadelphia. She promoted principles that I learned at Temple University; ones that I had grown to believe in. How could I not want to apply to an institution like that?
The application process consisted of sending in a cover letter, resume, and three references to Anne Holmes, the Eductation Director. First round interviews are held with Anne and the Wilma's resident stage manager, Patreshettarlini (Pat) Adams. My interview took place via Skype, but I know they also do in-person interviews as well. After applicants are whittled down, a second in-person interview is conducted. As part of my interview at the theater, I had the opportunity to meet the Wilma production staff, attend a production department meeting, and was given a tour of the building and theater spaces. Eventually, only one candidate is offered the position each year.
If I remember correctly, Pat did not prefer phone interviews because she believes face-to-face conversations are best. This was a small but very important glimpse into the Wilma culture and our future relationship; it showed me that she was not just searching for a person to work for her, but instead was interested in getting to know me,and how I would work with her and in the existing theater infrastructure.
Throughout the year, I found her radiant personality made working with her like working with a best friend; she and I grew to become close friends in addition to coworkers. Her infectious laugh, young spirit, and overall positive attitude created a thriving environment for everyone around her. She fosters a warm and inviting atmosphere for people around her to feel safe to play and grow. As a veteran of the Wilma's history, she has seen the company grow and develop, she showed me that finding a professional family to grow with was important for her, and I soon realized that I craved the same thing.
The Wilma's mainstage season consists of four plays, for which the SM fellow functions as the sole assistant under Pat. Throughout the three-week rehearsal process, typical duties included creating the run book, creating preset lists, tracking all props and costumes, noting entrances and exits, and being on book when needed. At times, it would have been great to have another ASM in the rehearsal room to help cover some of the responsibilities. Not because the work didn't get done, but because splitting up tasks would have made an even more thorough and organized experience for the artists.
Though rehearsals included the typical script work and blocking, a lot of early rehearsal time was spent playing and developing characters outside of the script. This is not to say that the final product was haphazardly stitched together at the end of the rehearsal process. The show as a whole usually took its shape in the final week of rehearsal on stage and throughout tech.
For this reason, technical rehearsals can feel long and challenging. For many of the shows, tech days consist of three of four hours of dry-tech time when actors are not present (giving the designers and director the opportunity to pre-cue) followed by a meal break. Then tech resumes with actors for an additional ten hours with a second meal break in the middle. Although these days can be a formidable challenge for anyone not properly prepared, it is ultimately a smart way to tech. It gave me the time to properly assign backstage duties for the show and work out transitions, which were usually very involved and needed precise timing. Additionally, lights, sound, props, and scenic elements had the time to be perfected and actors felt safe and secure while working on the set. After a dress rehearsal and almost a week of previews and extra rehearsals, the show opens for a four-week run.
The Wilma houses the dance company BalletX, a contemporary ballet ensemble that performs two shows in the midst of the Wilma's season. Additionally, depending on how the season is laid out, there may be a few groups that rent the theater space for events, other shows, etc. For shows like these, I had the opportunity to ASM or SM for the various groups (a great complement to the work I was already doing).
I would advise that applicants have a professional internship under his or her belt before applying. The Wilma Fellowship is not for people who have only worked in college-level theater. Rather, it is for people who are sure stage management is the path they want to be on. Although there is a collaborative nature to theater, there are many times that you need to be self-sufficient and have prior knowledge of ASMing: how to run a desk, delegate effectively to others, etc. Not having this knowledge can be detrimental to the production.
Since leaving The Wilma, I have ASMed at other Philadelphia area theaters and am currently working at Trinity Repertory Company in Providence, Rhode Island. After I finished the fellowship, I felt completely ready for these then-terrifying "real world" jobs. I grew immensely working at the Wilma, professionally and as a person. I gained a deep respect for the craft of making theater and discovered how I as a stage manager fit into the process.  Working with a dedicated staff who cares deeply about each other and the work they produce made me proud to work in this business; I have never seen a more tight-knit family of coworkers. This fellowship was truly inspiring.