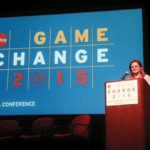 I was pleased to be the representative of the Stage Managers' Association at this conference.  In a conversation with Theresa Eyring, executive director of TCG, I learned the organization was interested in having more production professionals attend their conferences to provide their perspective in the discussions and ongoing work of TCG. The SMA was pleased to be taking part in this way.  Of course, as I also represent USITT and Ohio University, those connections came into play in the course of the work and workshops I participated in over those four days.
"In theatre, unless we say yes, nothing changes" Lear deBessonett, Peter Zeisler Award honoree.
The theme was GAME CHANGE and many of the sessions and panel discussions centered around how we can make a difference with our art, our stories and by employing inclusion in our practice.  Here Oskar Eustis from the public theatre interviews Lisa Kron about the process of creating the intimate musical Fun Homefor the stage.
In addition to several large group sessions that featured story tellers such as ….. and an artistic directors panel, the head of the NEA and the dual Kevin Moores. Much was lauded and as was pointed out, much is left to be done.
The game changers artistic directors panel included:  Mina Morita from the Crowded Fire Theatre in San Francisco; Michael Kahn from the Shakespeare Theatre Co in Washington DC, Gregory Boyd from the Alley Theatre in Houston, Niegel Smith, the brand new AD for NYC's Flea Theatre and Laura Kepley from the Cleveland Playhouse.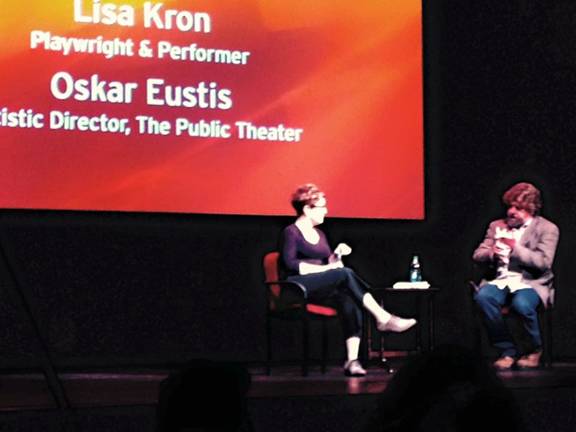 Many interesting points for game change and survival were raised but two of the most significant were Michael Kahn's announcement that in DC, the first or second play of everyone's (over 40 theatres) season in town was going to be one written by a female playwright.  Gregory Boyd stressed the importance of regional actors making up the bulk of the regional theatre company as well as how you have to upend the typical schedule of performances to accommodate the making of a new play.  His idea was to mount the play, run it ten performances take it back into rehearsal and then remount it again. This is an idea he wants to try this fall in his newly renovated facility.
Break out sessions held with and without allies present (allies being the non-members of the minority or underserved group) were convened by interest groups, by gender and by heritage or cultural affiliation. Positive strategies were discussed for moving forward to gain more opportunity for these groups and these discussions were reported out to interested members of the full conference group at Intersection, a gathering of the majority of the 700 soe attendees on Saturday afternoon at the State Theatre.  There were performances by local artists, an opening night/gala style party, Pandemonium at the Cleveland Public Theatre as well as a number of fascinating all conference sessions.
Personally, I spent time in a session with managing and artistic directors as we discussed strategies and challenges that currently face founders, funders, and community leaders in their day to day work of supporting their local cultural institutions.