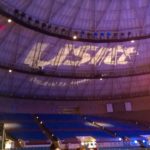 Successful Mentoring experience provided by SMA Lifetime Member and Del Hughes honoree, Thomas Kelly
Thomas Kelly, well known expert and author on the subject of theatrical stage management, spent two days in August with Brittany McMahon, one of the winners of the 2014 Find-A-Fellow contest. This USITT Fellows-sponsored initiative provided Ms. McMahon with a once-in-a-lifetime opportunity to have a one-on-one mentoring experience with one of the industries' leaders. The following report from Tom provides some insight into what was an information-and interest-packed two days. This project is another strong testament to the critical work USITT's Fellows continue to provide. Thanks to Tim Kelly, USITT Fellow for his leadership at the helm of this program.
Seldom have I had an experience turn out so well. Brittany was wonderful…she embodies the best of what I look for in a young stage manager. She was attentive to a wide variety of stage managers she met, polite, bright and personable…not in the cloying "network" type way, but honestly listening and getting what she could learn from all of us and applying it to some of her own background. The first day she spent with the stage managers and shows at the Tina Packer Playhouse Mainstage at Shakespeare & Company. The SMs were Hope Rose Kelly and Diane Healy, both of whom have been there a long time and who enjoy sharing the theatre and its workings with interested student/intern/mentees. Before the shows Brittany got to watch the stage managers run their fight and music rehearsals and then observe the half-hour backstage seeing the prep and preset and meet the actors, etc., and then be on headset for the shows (Henry IV and Midsummer Nights Dream). In the morning of that day, we did the "guided tour" which was given by the general manager of the company and included much history of the company as well as real backstage visits to rehearsals, shops, stages, and the overall facility. The second day we had a tour and opportunity to meet with the production manager and his assistant at the Berkshire Theatre Festival, shops, and backstage providing the opportunity to gain a bit of history and insight into a less classical and more "mainstream" type of theatre operation.
The rest of the day she spent at performances in the Bernstein Theatre at the Shakespeare & Company where she saw Vanya, Sonia, Masha and Spike, Durang's new wonderfully funny play directed by Matthew Penn who was in attendance. Again she experienced it from the booth on headset and listened to the SM notes and thoughts on the show as well as watching the running of it. In the evening she saw a wildly inventive production of Julius Caesar, directed by Tina Packer who she got to meet, etc. The production was performed by seven actors switching roles (and, in the case of the lone female who played both Calpurnia and Portia, sexes, as she reappeared as various soldiers and servants throughout the play).
Between all these experiences, over meals and driving her around, we had ample time to discuss, listen, teach, advise, reminisce, etc., about being a stage manager and what she could look forward to in choosing it as a career. We talked about everything from cue lights to personal relationships with cast, crew, etc…unions, rules, paperwork, team building, creative scheduling, relationships, and communication with directors, management and designers and crew, etc., etc. Throughout, her questions and discussions gave me great hope that this particular in depth immersion was a great way to teach and mentor. I would love to continue being involved in future seasons. And Hope (Rose Kelly), the PSM, also liked the mentoring and sees it as a great idea for the future. We have both been active with the SMA over the years, and we agreed that this particular schedule and immersion was a fine-tuned version of what we have tried with SMA as "Operation Observation"…similarly allowing backstage access and shadowing opportunities but not nearly as much time for discussion and reflection on what has been observed.
Editors Capsule Note:   Report from Thomas Kelly and USITT about his mentoring weekend experience sponsored by the Fellows of USITT.  This summer he was matched up with Brittany McMahon, a winner of the 2014 Find A Fellow Contest. Winners of this contest have the opportunity to select a mentor and then have an all expenses paid trip to participate. Thomas Kelly is the second SMA member to do this, Chair Elynmarie Kazle participated with Kristen Sutter in December 2012.