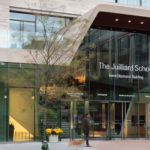 The following article is the first in a series devoted to stage management training programs (undergrad, grad, internships, etc.) across the country from the perspective of current stage managers who attended them. – Hope Rose Kelly (Editor-in-Chief)
The Juilliard School's Professional Intern Program
Stage Management Intern- 2010-2011
By Tori Sheehan 
The application process for the Juilliard School's Professional Intern Program was simple: an application, a small fee, a photo, three letters of recommendation, and a short essay about expectations and goals. I also went in for an interview with Helen Taynton, the woman who runs the program. I originally applied for the 2009-2010 group, but was turned down. However, Helen saw in me something I did not see in myself yet: I still had that false "king-of-the-hill" mentality that being a senior stage manager in college can give you. I was not ready for the real world yet. I needed some time to find myself and learn what I needed to work on when it came to my craft. She encouraged me to try again and when the deadline swung around again, I contacted Helen to see if I should still consider applying.
Helen has a bit of magic about her that makes you instantly feel at home, and she can read your needs exceedingly well. She can guide you to where you need to be, even if it is not this particular internship. I have come across several people who were turned down, but were pointed in the right direction by her and could not be more thankful.After a resoundingly positive phone call, I applied again, this time concentrating more on my essay about how I had grown in the past year and how I felt the program could help me grow further. I mentioned that I would be able to take one of the early August start dates and soon learned I was accepted.
There are two different start dates for the stage management interns. A few start in early August for a playwright's festival and the rest roll in with the other interns in early September. There are nine stage management interns as well as four costumes, two wigs/makeup, three electrics, two props, two paints, and one technical director internship in production. In administration, there is one slot each for the drama division, orchestral management, vocal arts, and development/special projects for a total of 27 interns. You will find that your group will gather often and have a connection, though since there are so many stage managers, you will also have a tighter connection with them because there are nine of you crammed into one tiny office! The internship lasts through May – though depending on your final production this can be anywhere from mid to late May.
The program offers one of the highest paid internships of its kind, at $330/wk recently (when I did it, it was $295/wk, so it increases a little each year). You can also be a part of a program where they take out your transit costs (up to a point) before your taxes, which may not sound like a big deal, but it can be a ten dollar difference. There is always some discussion that you can pick up extra hours and make money as an usher but as a stage management intern, you are very unlikely to have the time to spare. You do have to find your own housing. However, you can work with the personnel at Juilliard who can point you to a few interim places while you search. The pay they give you of course does not line up with the full expense of living in NYC but it can work if you have something saved up to fill in the gaps or if you are particularly frugal. You are also on the Juilliard student health insurance, which is a bonus.
The way the program works is that you will be assigned to different departments: drama, dance, opera, and events. I went into the internship with zero opera experience and some dance experience but I was still given opportunities in all of the areas which is one of the draws of the program. You will either stage manage a smaller show, or assist on a larger one.
When you are the assistant, you are working under very experienced PSMs (many AEA or AGMA), who have been working in that particular field for many years, and can show you the ins and outs (this can come in handy for opera and dance, an experience which many universities do not give to young stage managers). There are large and small shows for each of the big three: dance, opera, and drama. Large shows involve full scale productions, whereas the smaller ones will have either fewer people or happen in their smaller spaces. For events, there are large orchestral evenings, or the recitals for the pre-college students (age 6-17) which can involve several large groups performing one after another.Smaller shows work with younger, up and coming designers, while the larger ones attract more experienced designers. Because there are internships in production, there is always a staff, so the stage manager does not usually end up running any boards. You also get credited for your position on the production, not as an intern. During my time in the program, I stage managed two productions, one small and one larger for drama, and then assisted in opera, dance, and drama for the rest of my track as well as doing a few concert events.
The duties are pretty standard: prep, rehearsal, backstage tracks or calling, attending production meetings. They try to create in each of the nine slots a track that includes calling one show, usually in dance or drama, and as an ASM on an opera you get the experience of cueing in the performers for their entrances. This is a good stepping stone from the academic atmosphere of college, where you are treated like a student, to the real world. In this program, you are expected to function as if you are not in an academic atmosphere, but the people are there to gently pull you aside and help you learn. Depending on the project, you are looking at either a five or six day rehearsal week, and generally only one of those days will be a five or six hour day. The rest will be short three or four hour rehearsals in the evening, because the performers have classes. Tech usually involves a few days in the space for spacing with most of the scenic elements, and then a few evenings of tech in costumes, followed by a ten out of twelve. Then there's a dress rehearsal (which may be a part of the ten out of twelve) and then performances. Performance weeks tend to be truncated – maybe four performances a week and usually only one weekend. These kids have to get back to classes! (I say kids, but in the drama and opera divisions, you may find yourself working with student performers who are over 30, and in dance, as young as 16).
I chose this internship for many reasons. One was that it was located in New York City where I wanted to end up in my career (and be able to commute from home, saving money). Connections were another big reason – this internship has been going on for decades, and the people who were interns once are now the people hiring at major companies across the country. We had regular meetings with them discussing the business and what to do next. Financially this was one of the smartest choices to make as it paid higher than almost anything else. Many of us felt it was like going to grad school but without the price tag. Another bonus became clear afterwards: I head back regularly for some over hire hours, working events or run crew. It is some of the most reliable, flexible work to be found, and it pays well too!
Highlights of the internship, for me, include collaborating with some of the best people as part of the SM intern team, working on one of the largest stages I will be on for a long, long time, and learning, learning, learning about myself, my craft, and what it means to be a part of theatre. Your fellow interns will be your gateway to so many future jobs. And you'll have the connections from the PSMs that you assist. Fun fact: when you have finished the program, you are a part of the Juilliard alumni, which comes with many perks. You get a card and everything.
Two years after I finished the program, I received my Equity card and now I have moved to the city to start taking advantage of all of the contacts I have made. I also spent the year after at Playwrights Horizons as one of their production assistants. I firmly believe that I can trace every job I have gotten to either my undergrad (Ithaca College) or to Juilliard. It shows you who you can be outside of school and if stage management is really where you want to be. I highly recommend it to those just out of undergrad or thinking of grad school a few years later. Juilliard provides you with a base to start from in NYC and this business in general. I would not give it up for the world.