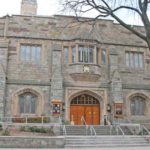 The following article continues this series devoted to stage management training programs (undergrad, grad, internships, etc.) across the country from the perspective of current stage managers who attended them. – Hope Rose Kelly (Editor-in-Chief)
Yale School of Drama
MFA in Stage Management
By Nicole Marconi
The program takes three years to complete. The application/interview process is a two-step process. There is an online application that involves submitting your basic information, your educational history, your work history/resume, an essay about why you want to attend the school, three letters of recommendation, and an application fee. If the chair of the stage management department feels that you are qualified, she will bring you in to interview with her. All interviews are done in person. The class sizes are four people per class year.
The education tuition is mostly paid through loans.  The rest of the education cost is determined based on financial aid.  It determines contribution and how much you will be making based on the work-study rate. You may have to take out extra loans to help pay for the extra costs of grad school.
Housing is not provided at all. You have to figure out your own off campus housing. Yale University does have housing for graduate students, but there isn't much available to the Drama School students.
The type of shows that you work on varies. There are Yale School of Drama shows and there are shows at the Yale Repertory Theatre. The chair of the department determines which shows you work on based on the calendar and your other production assignments. Your first year you work on certain shows, and then your shows get more advanced as you go through the program.
The average rehearsal week consists of Monday through Saturday rehearsals. Rehearsals take place after class, starting at 2:30pm and sometimes going as late as 11pm.
The average tech varies from show to show. Tech rehearsals can go anywhere from two days to five days. When working on a Yale Repertory Theatre production, the tech period is generally about five days.
The average performance period is Tuesday through Saturday. We sometimes have Wednesday matinee performances at Yale Rep. We do not have performances on Sunday or Mondays.
This program is unique because of the variety of shows that you get to work on. You get exposed to all different kinds of productions ranging from entirely student-produced works to the Yale Repertory Theatre produced shows. You are also get to work with other stage managers who are willing to mentor and help you out along the way. Having a sounding board for advice and your daily occurrences as a stage manager is one of the best things about the program. The kinds of shows that you work on are mostly new plays and classical plays. We do not get exposed to as much dance or opera. We also work on new musicals, mostly at Yale Repertory Theatre.
The courses that we took at Yale were varied. Some of them were across different departments, and others were just in ours. There were a few courses that stood out to me.  One in particular dealtwith the union, Actors' Equity. It dealt with the rules of the various contracts and how to break them down.  Another course that I took dealt with the production contract and the various departments. It basically broke down the different departments and said how they all work together. It taught me a lot about IATSE and how the other unions work as well.  Other courses that I took involved basic costume construction, computer technology in theater, and prop construction.
The highlights of my experience were being able to meet different stage managers with different points of view on the field. I was able to talk to my teachers and classmates about things that I had been afraid to ask about before. The class structure and being in the proximity of other stage managers made it feel like a safe environment. I was able to stage manage a professional show at Yale Repertory Theatre which was one of the best experiences of my career so far. I did this in my final year (my third year) at school.
Going to graduate school has helped me out immensely. I have my Masters now so I can hopefully teach later on down the road. And the connections that I have been able to make along the way have been irreplaceable. Before I went to Yale, I discovered stage management in undergrad. I was originally a drama studies major, and stage managed shows for the department. I wanted to learn more about stage managing, so I started freelancing in New York City while going to school. Then I graduated and worked in NYC for 2 years. I did a multitude of internships, including an internship at The Public Theatre in Maine. I really learned how to be an ASM through these internships and learned a lot about myself as a stage manager.
I would recommend Yale to anyone who is looking for a very specialized program. You have to be certain that stage managing is something that you are really serious about. You should not apply to the program if you're not sure about becoming a stage manager.
I am currently working as a freelance stage manager, primarily in NYC. I have traveled around the Northeast, going out of town for gigs that I find interesting. Since I have graduated, I have worked at a variety of companies such as the Yale School of Drama, Connecticut Repertory Theatre, and Shakespeare and Company, just to name a few. I am currently working as the ASM on Generations at Soho Rep.