When the New York Metro Region throws an event, either in person or virtually, one member is sure to show up and happily participate. This quarter we are shining the Member Spotlight on …… John Concannon! Read on and get to know all about this SMA member..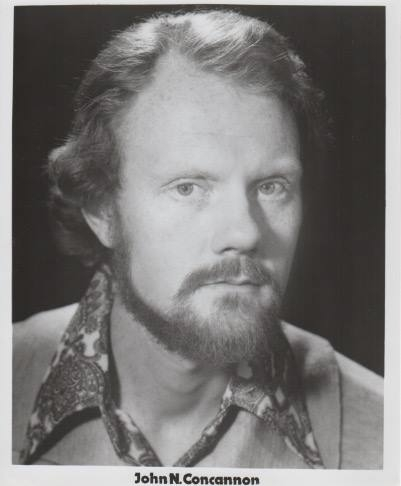 John was born on the Land of the Osage, also known as Pittsburgh, PA. His family consisted of his father, mother, sister, and brother. Both of his parents were in the military during WWII, and his mother outranked his father. After the war was over, his father was a postal clerk, and his mother, once three kids were in school, reentered the workforce as a school social-worker (she had a degree from Carnegie Tech). She was the family's "entertainment director" and participated in HS theatrical productions. His mother instilled the "being on the stage" bug into him.
John attended a Catholic boy's high school and as a Sophomore, he was on an art track but got cast in shows. He had to go out to several girl's high schools to get cast and was usually cast as the older character actor, but the theater bug had bit him.
After high school John got his undergraduate degree at Marquette University in Milwaukee, Wisconsin and his graduate degree from The University of Connecticut (UConn).
When asked how he had chosen stage management as a career John replied:
"Stage Management was something I fell into. As an undergraduate I still aimed for acting, however I also filled in on the tech side, usually sound or lighting. When graduation loomed, I applied to several Grad schools thinking of directing as a new goal. Then came a call from the Chairman of the Theater Dept of UConn. He offered me a graduate assistantship in technical theater, scenic work. I jumped (who wouldn't?). And as an aside, one other grad assistant at that time was Robert Bennett. Yet things never run easily. By the end of that year, I was drafted into the Army (Bob also was drafted, and we have since talked about our mutual experiences).
Long story short, I spent nearly a year in Vietnam, with months in the jungle as a Combat Infantryman (Bronze Star medal). I finished my "obligation," spent a year readjusting to life in these United States and went back to UConn to get my degree. Stage management was not an offered career in the '60s and '70s so I still aimed for directing."
Upon arriving in NYC in September of 1974 there was pickup work. John's first job was at LaMama building the set for André Serban's TROJAN WOMEN. He was then hired at The Public Theater. The production manager, Andy Mihok, hired him for the carpentry shop, then because John showed up and did a good job (even though there were some hiccups) transferred him to electrics. "My first show as a techie was a show running lights at The Public, yet I can't remember its name. (P.S. does anybody have a program for "A CHORUS LINE" when it opened at The Public?)"
John also directed a little one-act show, "Propositions" at The Quaigh Theater which got a nice review in Backstage but never went anywhere.
At the time Techies were rarely promoted to stage management. So, John left the Public, and through connections soon had his first ASM slot on "A Christmas Carol" at Ford's Theater. His career was off and running.
We asked John to tell us about the production in his career that he is most proud of and why?
"Interesting, this question. Shows going well give us pride. Anyway my 'proud of' wasn't with a show, but with my association with another Stage Manager, Alan Hall. Alan and I met in 1979 when he was the PSM of "Sweeney Todd" at the Uris (now Gershwin) Theater. Alan graciously offered me the opportunity to come backstage and observe him calling the show (my first Operation Observation). He lived near me, so occasionally we met. Then, in late November of 1982, Alan needed a production assistant as he finished rehearsals and was going into tech for "Alice in Wonderland" at The Virginia (now August Wilson) Theater. He gave me a call and in I went. In 1985, we had also spent several stage manager committee meetings with Bernie Pollack, and others. I was the PSM and Lighting Designer for Columbia Artists' tour of "The Band of the Royal Marines and The Pipes, Drums, and Dancers of the Argyle and Sutherland Highlanders". That tour had 75 shows in 81 days at 69 venues. Alan and his wife Ruth Rinklin were my guests when the show had its penultimate performance at Madison Square Garden. Alan was complementary of the show and even spotted one 'special' light cue that had been worked into the show. We have loosely stayed in touch and that has been something I am very proud of."
In the fall of 1981, a group of New York stage managers held a get-together with the stage managers of the Royal Shakespeare Company's "Nicholas Nickleby." John was not there but had a production contract that winter and began attending "drink nights" with other NY stage managers. There was an AEA arbitration for the transfer of "Mass Appeal" from LORT-Non Rep to Broadway and the off-Broadway stage manager did not transfer with the show. This started fellow stage managers getting up in arms. John says "The fact that my Union was not standing up for a member got me involved in the SMA. It was this involvement that also pushed me further into Actors' Equity activity."
Through his career John has worked on the following contracts: Production, L.O.R.T., Off Broadway, Resident Stock, and Showcase. When he is not working, he enjoys spending time with his wife Christina Weppner, reading, listening to classical music, playing chess, and working on puzzles.
John's advice for up and coming stage managers is this: "Learn the technology, but don't spare the interpersonal aspects of stage management. You are going to work under many and all types of folk, learn from them. Don't be afraid to offer your opinion or insight, if it is not accepted, learn from what goes go down. There will be good to keep and bad to discard. I have often thought that stage managers occupy one of two camps: the lone wolves or part of a stable. I have found myself in the lone wolf camp and have no complaints."
And finally, we asked John if there was anything he would like to share about his career or his life?
"As a stage manager in the '80s, I didn't consider myself a trailblazer. I was one of many who helped form and establish the Stage Managers' Association. Back then, I urged other stage managers to look at and consider investing their time and energy with the SMA and hoped I was successful.
My life, however, took a different turn . . .
Two roads diverged in a wood, and I –
I took the one less traveled by,
And that has made all the difference.
At the beginning of 1986 I availed myself of the opportunity to learn computer training for what was a hot and upcoming field — Industrial Slide shows. That path turned me away from theater and into the world of photography, video production, and editing. I refinanced a company and for twelve years was successful. Yet medical issues for my first wife closed our shop in 2001. So, like all of us, I asked myself, 'What's next?'
The next year I was hired by a government contractor as an AV technician at a military school where my video and sound technician skills, as well as stage management expertise, served me for the next eight years. And, although my 'career' did well, there was another knuckleball thrown my way when my first wife died of coronary heart disease. 'What's next?'
Well, by chance, I had reconnected with a dear friend from my New York days and, long story short, was married to a New York-based architect on the Fourth of July in 2012. Then I was faced with 'does she come to me, or do I go to her?' Silly John, I came back to her and NYC.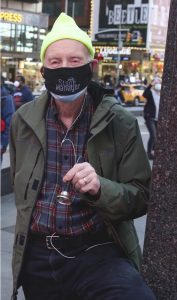 So back into life in New York I've come! Christina and I even dabbled in backing one Broadway show. I've been getting my name out for consideration. It is starting all over again, but this time from square two. Basically, I'm trying to get four or five more shows under my belt before I turn in my Pointe shoes. I'm hanging in through this pandemic and recommend, if one can handle it, that you do not throw in the towel. Keep the lines of communication open."
Thank you, John, for sharing such personal and exciting stories of your life. We are happy you are part of the New York Metro Region!
(Photos: John circa 1975, March 12th remembrance of the shut down of our industry in Times Square)