January 12, 2015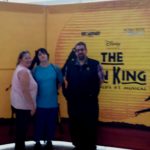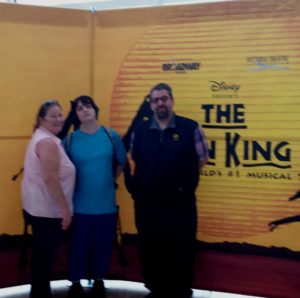 My sister, Julie Johnson, works for some very special clients. One night she called to ask, "Do you know anyone who works with The Lion King?"  It turns out that she had been in communication with a family from Ohio whose young son, Zeke, had a BIG WISH: to be able to go and see The Lion King.
I thought of Zoya Kachadurian, a stage manager who had sent me a "headshot shot" taken backstage at The Lion King I emailed her and she sent me contact information for the tour stage manager, Matt Shiner. It just so happened that the tour was going to be performing very nearby where Zeke and his family lived so I put the two in touch and frankly, I forgot about it: in this business it is just what you do.
A couple of months later, my sister called a second time. Matt had contacted Zeke and made arrangements with him to attend the show.  Zeke has a condition that makes necessary special accommodations for him to attend this sort of public experience but Matt was on it; he met the family before the show, gave Zeke a sort of a preview of what he was going to experience and gave Zeke his biggest wish.
I received this note written by Julie and photos from the family: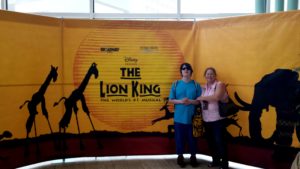 This was a fantastic experience and we could not thank you enough for introducing us to this wonderfully accommodating man!
Zeke has wanted to do something like this for a very long time – really his dream! With his challenges related to his disability, the over stimulation issues; any change in a routine schedule can be very difficult for him to overcome.  He needs to prepare and be made comfortable with any change to allow him to participate without a great deal of anxiety.  The way he was treated, helped to transition and know what was coming was an amazing experience that we have not had before. We were not only amazed by what a wonderful person he is (Matt Shiner) but the show was incredible.  This was a life moment that will never be forgotten.
Thank you to everyone who helped to make this happen created an amazing memory for Zeke and our family that we would have never had without you.
This is the truth about show folks. A person in Minnesota finds out someone in Ohio needs help, people from NYC make it possible. There is no folk like show folk, they are some of the best people in the world, willing to share the great fortune we have to work in this special business.  Thank you to Matt, to the Company of The Lion King and to Zoya for making this possible.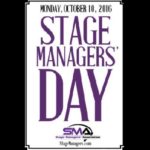 In 2013, October 10th was declared International Stage Management Appreciation Day. It was started by the Stage Management Association UK and then caught on around the world – USA, Australia, Europe, Japan, and so on. All over social media – Twitter, Facebook, Tumblr, Instagram , Flickr – you name it, there have been countless numbers of postings from around the world of stage managers showing how they celebrated one another, the profession, and the day. Click here to see how the day was celebrated in 2015 – scroll down and you will see some familiar SMA faces.
As we continue to celebrate this year, the SMA has created a telegram service for anyone to use that wishes to send love and appreciation to a Stage Manager. Click on the button below and it will take you to a page to fill out the recipient's email address and a note that you want to include. And throughout the day, bombard social media with pictures of you, your book, booth, SM team, blogs about your work, bake some goodies for your fellow stage managers, thank your AEA Rep, write an article for the SMA website and share your photos with us, anything that you can think of – share with the world about how you are celebrating this day and please use the tag #StageMgrs16 to spread the word.
Happy Stage Management Day! You are awesome and amazing! Cheers to you all!

SEND TELEGRAM
Dear Members,
For the past several months, the board of the SMA was been working with PTG Systems (software developers from Ohio) to bring to you more functionality with the programs we have promised you.  In a few short days, we will launch a re-design of the website that will provide much of that functionality.  With the new site you will have among other benefits:
Improved and searchable profiles
Searchable job database
Collaborative Connections: a new mentoring program for all
Document Library: paperwork templates to help give you ideas to formulate your own paperwork
Discussion Groups
Gift a membership
A new feature for current members is auto-renewal. The next time your membership is about to expire and you go in to renew it, make sure to click the option to setup automatic renewals before you check out. You can always go back in to opt out in the Membership Account area if you change your mind.
Plus, there are links to our two fall conferences in Las Vegas and New York.
What do we need for you to do as of the "go live" date?
On this Sunday, October 2, 2016:
Go to http://stagemanagers.org
Click the Log In link at the top right
On the SMA Member login page, click the lost your password link to reset your password. Enter your username or email address and click Reset my Password.
This will send an email to reset your password. Click the link, enter your new password and click Change my Password. You should now be able to log in.
After you log in, please click on the My Profile link at the top of the page to view your profile. Please review all information carried over from the old site.
If you wish to change any profile information, click the purple gear on the right side of the page, and click Edit Profile.  Make sure to click the Update profile button that's at the bottom of the page to save your changes.
Make sure you have checked all of the boxes, or unchecked those on your profile, which indicate the notices you would like to receive.
All phone numbers were made private, so if you wish any to be visible to members, please uncheck the "Keep this number private" box.
All professional members will receive voting information, invitations to membership meeting and important notices from the board.
When you have completed the formalities, please take our new site for a test drive – check out all of the features and if you have some thoughts, click the "Contact Us" link at the bottom of the page, fill out the information, click "send" and an email will be sent to the SMA. We know that some things will need to be adjusted, and even through a month of testing, members may need assistance or have questions.
We want to hear from you.
Then, tell your friends, your colleagues, your students, THIS is the year to join the SMA.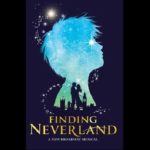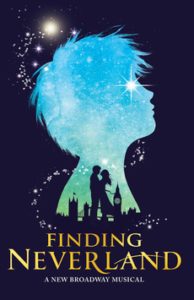 The following piece is written by SMA member Michael Ghysels who had the wonderful opportunity of observing Matthew Stern call the production of "Finding Neverland" on Broadway.
I have been an SMA member for a year and I'll say it until the cows come home, no organization has helped me or been more beneficial as a young stage manager. As a member, the networking is endless and there are opportunities you can't get anywhere else. Case in point, Matthew Stern was gracious enough to let me shadow him at "Finding Neverland". I first met him at the Holiday party last year and since my colleague shadowed him last year, I jumped at the opportunity and asked him. I felt shadowing a Broadway stage manager was exactly what I needed at this point in my career. The experience did not disappoint.
I felt blessed to shadow Matt. He has the stamina and the "it" factor a stage manager needs in order to be successful in this business. By that I mean he has a great personality, strong people skills, and all the other skills necessary to be an exceptional stage manager. He was very active during the show and conversed with me a lot instead of sitting silent for two and a half hours. And like any organized stage manager he was prepared for me. The entire crew knew I was coming and there was a chair already set up in the area where he called the show, which was above orchestra left about 25 feet up. He and the SM team welcomed me the second I walked into the Lunt-Fontanne. I got to hang out in the office pre-show with the PSM and other SM.
During the show I took a lot of mental notes. Matt was showing me all the equipment used to call the show. I asked a lot of questions and really studied the four monitors in front of me as Matt called the cues. I took note of his script and how the cues were written, especially cues that required counting in beats for big dance numbers. Since I saw the show last year I was very curious to see how a tech heavy show like "Finding Neverland" is called. I learned it's not so much how many light cues there are in a big musical number but all the safety precautions a stage manager has to consider as well. This was the case with the finale for Act One. In the number "Stronger" the lead James M. Barrie is provoked by his alter ego which happens to be the inspiration for Captain Hook. Act One ends in the discovery that Peter Pan is about to take off. So there is a pirate ship that has to be presented on stage. I learned that confirming with the backstage crew that the mast set piece is ready to be lifted (can't call the cue until they are ready), wait until all clear and confirm with the fly master to bring in the drape for the mainsail is key to pull off a number like this successfully.
Another moment I thought was done differently when watching from the audience was near the finale where (SPOILER ALERT) the mother dies. The company is singing this beautiful song and she is lifted up in the air, but there are magical sparkles flying around her. How they actually did it is that there is a circle of fans center stage coming from the orchestra pit and the actress who plays Peter Pan in the play (and starts the show) throws this glitter material at Laura Michelle Kelly (who plays the mother) and the fans go on. The moment is the show is very emotional and watching this from behind the scenes was even more powerful.
I know other Broadway stage managers, whom I've asked to shadow them and they have declined due to reasons like I'm not a student anymore. You'd be hard pressed to find another organization for stage managers who are more willing to provide someone with the experience described above. This is one of the many benefits of being an SMA member. The SMA really cares about their members with the intention to open the gates for young stage managers.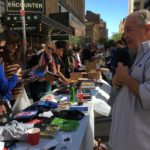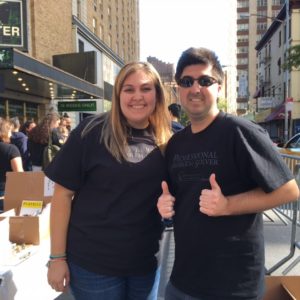 On Sunday, September 25th, the SMA manned a table across from the Jacobs Theatre at the BC/EFA Flea Market during some glorious autumn weather. Board Member Dan Zittel headed the table with assistance from Bill Hare (Treasurer) and his wife, Hope Rose Kelly (2nd Vice Chair) and SMA members Jana Lynn, Evelyn Pummer, Michael Ghysels, Sally Garone, Zoya Kachadurian, Stephanie Armitage, Diane Trulock, and Madison Youngblood. The SMA table sold show jackets, t-shirts, playbills, CDs, and misc show memorabilia. The coconuts from "Spamalot" were a hit and was bought by a very excited young thespian. Another find was Robert Simonson's "Performance of the Century" – a book about the history of the Actors' Equity Association which contains info about various AEA stage managers including Dan Zittel.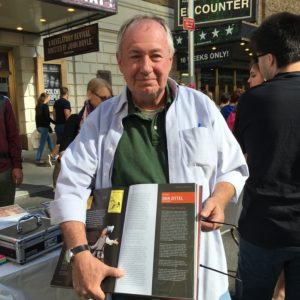 Sixty-eight tables from Broadway and Off-Broadway shows, theatre owners and producers, merchandise and marketing firms, unions and guilds, and concessionaires raised $395,601 of the grand total which was $782,081. The SMA table raised $1,863 of that.
Looking ahead to next year, we are seeking a NYC-based SMA member to spearhead and coordinate the table for the next Flea Market. The duties involved are seeking volunteers to set up, man the table, and strike at the end of day. If interested and for further info, please contact Mandy Berry at mandy.berry@gmail.com