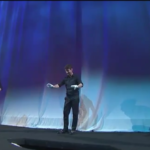 I recently stage managed a very special corporate event – Intel's Opening Keynote at CES 2018 (the Consumer Electronics Show) in Las Vegas. The show, which took place at the Park Theater in Las Vegas, was a very big and ambitious production showcasing cutting edge Intel technology that the world will most likely be seeing in the near future. The show was produced by Halloran Associates and Clarity Creative in collaboration with Intel Corporation's own internal events division. As always, we had many groups contributing elements, the more traditional such as: WorldStage for video, Tait Towers for automation, Nautilus Design for lighting design, OSA for audio, Strictly FX for lasers, Mystic Scenic, etc; and then the unusual: Name The Machine, Soundvision, Nerdmatics, Aerodrums, MobilEye, e-Volo, iQ (drones), etc.
Many modern productions already involve enough high-level technology to challenge a stage manager. Given that this production was all about the technology of the future, learning enough about who and what I was working with to call the show was a true adventure. As CEO Bryan Kryzanich and Intel's vision of the story they wanted to tell at CES (and to the world) grew, so did the production's scale. Months before the event, it was decided that we needed much more time then we would have at the venue in order to get the show figured out (Bruno Mars was scheduled to perform a New Year's Eve concert at the Park Theater – our load-in would commence at 12:01am New Year's Day  for a performance 7 days later), so Intel rented the Cow Palace, a venerable old arena in Daly City, south of San Francisco proper, where the production would load in and technically rehearse in advance of the January dates at the Park Theater.
As always, my job as the Production Stage Manager, was to learn about all the contributing parts and people and blend them together to form the show that the creative team had dreamed up. Deck Stage Managers Lisa Deer, Emi Aramendia and Clay Francis along with my personal assistant Hannah Evans were my appendages, extending my reach to the far corners of the stage and beyond! After so many meetings, drawings, revisions, showflows, scripts, additions and cuts, there is nothing like that moment when you first get everyone on headset and actually put together a string of cues that look like a piece of a show. Those first moments in the birthing process of a production are my most cherished. Whether or not the final product ends up looking like that first pass, that moment when all the team and all the parts come together is unequaled. I never stop appreciating the opportunity to be in this business at that moment. I try to convey that appreciation to all my colleagues in the hope that it inspires us all to continue doing our best work throughout the challenging (sometimes grueling) process of creation.
With performances by musicians, drones, dancers, acrobats, an autonomous car, a Volocopter flight and human guests such as Tony Romo and Jim Gianopolus it was a fun filled event. Ken Stanford, our camera director and his team of camera operators did a breathtaking job of capturing the entire event. Have a look at the web stream of the production.
Mandy Berry – 1st Vice President
Thank you very much for considering me as a chair for the SMA. I am looking forward to continuing the work I have done with this amazing board over the past 3 years. We have established our online document library and are running our education department with our three key programs: Ask a Stage Manager, Collaborative Connections & Operation Observation. The SMA is an asset to stage managers, a wonderful connection to all facets of our industry and we must tap these resources and share with one another to get the most out of our careers. For this coming year I would like to continue with the following goals – creating an audio and video library with interviews of stage managers and useful resources online.
Katrina Herrmann – Recording Secretary
I'm running for the position of Recording Secretary on the Executive Board. Previously I served on the Executive Board as Co-Secretary from 2010-2013. I've been a professional stage manager for 14 years and an Equity member for 10 years. Most of my career has been spent in New York and Chicago working on new plays and musicals. The SMA is a valuable resource for the nation's stage managers, providing practical and tactical support. As I enter the middle of my career, I'm thinking about lifestyle balance, fair wages, and encouraging diversity. The country as whole is at a turning point, and there is work to be done to create an environment in which the arts can flourish. As a Board member, I would focus on building resources that help stage managers not just survive, but thrive.
Bill Hare – Treasurer
This has been a very exciting year with increased membership and growth both financially and geographically. It has been both a pleasure and an honor to serve with this highly committed, activist board. Next year promises to be ever more expansive as we explore additional avenues of growth and further opportunities for service to our fellows. Our ambitions are great while our resources are modest, but I'm convinced that with careful and responsible marshaling, we can take great strides toward realizing our ambitions.
Matthew Aaron Stern – Director-at-Large
I received my AEA card at the La Jolla Playhouse, spent a year as the stage manager for Ballet Iowa and then moved to New York City where I worked on Broadway, National Tours and at Radio City Music Hall. I've also stage managed for numerous corporate events and teach stage management at SUNY Purchase. I love stage management and I love stage managers.
I've been fortunate in my career and honored to work alongside many great stage managers, from which I have always continued to learn and grow. Membership in the SMA is an important part of my professional life and I am thankful for it. By connecting stage managers to each other, the SMA is vital to our profession and serves a purpose unlike any other organization, as it dedicated to the welfare of stage managers.
We are unique in our profession, balancing everyone else's needs and being servant leaders. As an organization, the SMA can support us and our needs, providing social outlets, business opportunities and more. I would be honored to serve and help the SMA continue in its mission to support and advocate for stage managers.
Robert Neapolitan – Director at Large
Robert Neapolitan moved to New York in October of 2015. Since then he has immersed himself into the world of Theater. He has been a proud member of SMA for two years. He looks forward to joining the Board of SMA and to help connect, educate and support Stage Managers across the globe.
Anthony O. Bullock – Eastern Region Rep
My name is Anthony O. Bullock and I am proud to be running for the position of Eastern Regional Representative. I have been working along the east coast as an AEA stage manager since 2010. My goal for this position in the SMA is to grow our membership, not just in numbers in areas with little to no members but in active participating members. I hope to continue along with expanding on the benefits and value the SMA provides.
Joel Veenstra – Western Region Rep
I am a professional stage manager, production manager, and improviser based in Southern California. It has been a joy to work with a number of renowned regional theaters and large-scale celebrity galas and to teach stage management, collaborative production, and improvisation at the University of California, Irvine. Currently I have the pleasure of serving as the Recording Secretary of the Stage Managers Association and I look forward to transitioning into the role of Western Regional Representative, pending your vote. Already we have started the process of raising awareness of the benefits of the SMA in the West with two regional events (in Las Vegas on October 27 and in Los Angeles on April 24) and I look to continue to build on these incredible events throughout my term. My network and networking ability will help to support, inspire, and encourage my fellow stage managers in the Western Region. Thank you for your consideration of me for this position.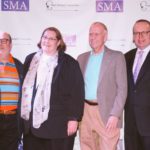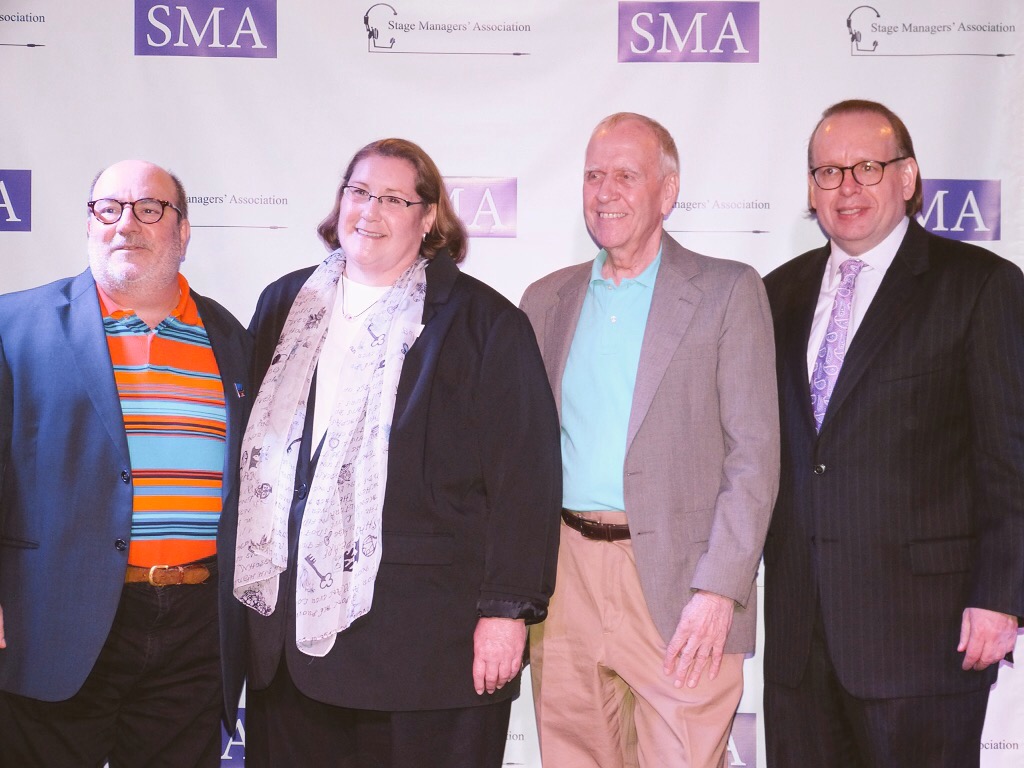 An evening at the Del Hughes Awards is a chance to celebrate and validate our lofty craft, Stage Management. I confess – I love tribute ceremonies. They touch me. The honoring of a career by one's peers is a beautiful thing to witness. Del Hughes Awards night is the one night in a year that stage managers can come together to share and celebrate their unique love of the theatre and all forms of live entertainment. And the evening of Monday, May 11, 2015 at Connolly's Pub in midtown Manhattan was no exception. The tributes given this evening for our three honorees were very different but all were heartfelt, filled with love and respect, and passionate about the beauty of how stage managers make a difference in the business and the world.
Elynmaire Kazle, Chair of the SMA started off the evening welcoming all who attended. Rich Costabile (past Chair and Del Hughes Committee member) MC'd the evening.
Craig Jacobs was celebrated first by the remarkable Tom Viola of BCEFA. Tom's recognition of Craig's constant efforts on the part of the cause was beautiful and powerful. Next, Martha Knight (2014 Del Hughes honoree) read from the many notes of congratulations sent in by Craig's admirers including Chita River, Tyne Daly and Harold Prince, just to mention a few. Tom Bartlett's note mentioned one observation: "When spoken by Craig, 'No!' is a complete sentence"! Bethe Ward ran in just before the ceremony with a many-paged scroll of signatures and appreciation from the cast of PHANTOM OF THE OPERA where Craig PSM'd for years. A lot of love was beamed to Craig whose health prevented him from attending in person though we are sure that he was there in spirit.
Jill Rendall returned triumphantly to NYC from the Oregon Shakespeare Festival where she has reigned as the "Queen of Repertory" – a title bequeathed by Jimmie McDermott (2014 Del Hughes honoree), who introduced Jill – in order to receive her Del Hughes Award. Jill's varied and long career has taken her coast-to-coast with many significant stops in-between. She has spent the vast majority of her career at LORT theatres and was central to negotiating the current Equity contract for regional theatres. Her acceptance speech was humble and moving. Jill holds dear the many artists and craftspeople with whom she has worked over the decades … and it is clear to see that they feel just as passionately about what Jill's stage management has meant to them through countless productions. They are celebrating at OSF!
Frank Hartenstein was introduced by his longtime associate Tripp Phillips who spoke eloquently of assisting Frank back in the old days. It is clear that throughout his career, Frank has had a tremendous influence on so many in the business – several of his assistants from over the years were in attendance to support and honor him. And in his acceptance, Frank made it very clear that none of us can be successful without the dedicated and skillful help of those with whom we work in this most collaborative of art forms. Frank's career spans decades and includes some of Broadway's most memorable and challenging shows: A Chorus Line, Big River, Starlight Express, Into the Woods, The Who's Tommy to name a few.
Big thanks go out to Janet Friedman, Chair of the Del Hughes Committee, all the members of the committee and members at large who volunteered their time in putting together a very successful event.