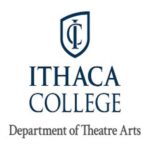 The following article continues a series devoted to stage management training programs (undergrad, grad, internships, etc.) across the country from the perspective of working stage managers who attended them. – Hope Rose Kelly (Editor-in-Chief)
Ithaca College – Ithaca, NY

B.A. Theatre Studies – Concentration in Stage Management – 2013-2016

By Liza Miller

As a graduate of Ithaca College's Theatre Arts Department I regularly implement my education in my work. Before I chose Ithaca, determined to become a stage manager, the only thing I had stage managed was my high school's talent show. My high school was small and there was no theatre department, only a drama club. There were only two backstage crew and everyone else was an actor. I chose Ithaca College because it is located in Ithaca, New York – one of the most beautiful places I have ever been. The city feels like the middle of nowhere but the mountains and the lake are breath taking and there is plenty of hiking. I chose the Department of Theatre Arts because everyone I met was friendly and bright and honestly in love with their school. So…lacking all knowledge of actual stage management ICTA accepted me with open arms and gave me the fundamental skills and practical experience required to succeed after graduation.
Ithaca Theatre Department has five majors. All of them are undergraduate degrees and when I went there (2013 – 2016) if you primarily focused on stage management you were a B.A. Theatre Studies major. You don't graduate with a degree in stage management but there were unofficial paths within the major that a student could choose to follow or not; Stage Management being one. The B.A took four years to complete and you must interview to be accepted into the major. When I applied I had to submit a resume, and a letter explaining why I wanted to be a B.A. I was then contacted by the department to set up an interview. One of the B.A. professors met with me, looked over what I submitted with my application and then asked me a few questions. I was very nervous (which was completely unnecessary) so I honestly don't remember it very well.
Most class years have three to five stage managers but in my year there were ten by graduation. Ithaca has 2 main stage theaters and 5 studios, one of which is a small 50 seat theater. There are 6 main stage productions and an unbelievable amount of student produced productions every year. There are also productions and presentations connected to the directing, play writing and performance classes. The main stages include 3 plays, 2 musicals and 1 opera. Every other year a play was replaced by a dance show. As a stage manager you would be assigned to a production in addition to your daily classes. If you entered the program as a freshman you would shadow an SM team during the fall semester and be a Production Assistant in the Spring. As a sophomore you would be assigned as a PA again or you may become an Assistant Stage Manager depending on your abilities and skills. Junior year you would usually be an ASM or a Production Stage Manager for one of the smaller shows in the studio theaters. Senior year most Stage Managers will PSM a mainstage show.
None of the assignments were guaranteed. Other than the initial shadow assignment all positions were based on merit and performance. At Ithaca there is an Instructor called the Stage Management Production Mentor. They would teach the class "Stage Management I" held every fall semester and also be responsible for reviewing your performance at the end of the show. The reviews were important but fairly relaxed. Everyone you interacted with, student and professor, would be able to submit an evaluation of your skills to the SM Mentor anonymously and then the mentor shared the evaluations in the student's review in a constructive and educational way with a focus on how to improve on mistakes.
One of the amazing things about Ithaca's Theatre Department was that every rehearsal, tech and performance was run like an Equity level production. When I was a PA on my first Off-Broadway production I was happily surprised to find that everything I did as a PA in college was the same as what I needed to do in a professional production. The paperwork was the same, the breaks were the same and the responsibilities were the same. This goes for the ASM and PSM duties at Ithaca as well.
Ithaca College holds classes Monday to Friday so rehearsals would be held 7pm – 10pm, Monday to Friday with a 5 hour rehearsal on either Saturday or Sunday. Tech usually started on a Thursday and went from 7pm – 11pm, Friday was 7pm – 11pm and then there was usually a 10 out of 12 on Saturday or Sunday and then Monday was 7pm-11pm with First preview on Tuesday night.
I felt that the Ithaca College SM program required you to be self-motivated. They give you all the tools and experience you need to start and then they expect you to run with it. The SM mentor was always there to answer questions and supervised tech but you were also expected to be independent and hold your own. You must run the rehearsal room and production meetings and the performances were all on the stage managers. Though competitive, Ithaca was never hostile. I always felt that students had healthy respect for each other even in stressful situations. Professors were always rooting for their students and ready with an encouraging word or constructive criticism. I feel that the program was equal parts education and experience and students had the freedom to make mistakes in a professional setting.
Since graduation, Liza has worked in NYC at Classic Stage Company and Signature Theatre. As of 2018, she gained her card with Actors' Equity Association.