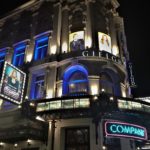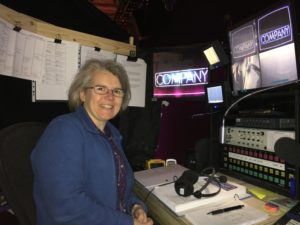 Reaching out to the Stage Management Association of the UK (UK SMA), I inquired if they had any observation opportunities from their members. Andy Rowley (Executive Director) kindly put a call out and Sharon Hobden, who is currently the DSM for Company, sent me an invite. This production has been noted for the gender swapping of the lead character Bobby and some other roles plus the storyline has been updated thereby bringing it into the 21st century with a natural ease that had I not known its origins, I would have thought it was a new musical written for today. Patti LuPone stars in the role originated by Elaine Strich. With a bit of tongue in cheek (given her history of admonishing patrons about cell phone use at the theatre), the recorded curtain speech is her voice firmly but good naturedly telling the audience to switch off their mobiles.
I checked in at the stage door of the Gielgud Theatre where Sharon came out to meet me. Sharon is warm and friendly with an air of trust and calmness emanating about her. She took me through the backstage area which is small and can barely hold the several moving box units (5 plus 1 in the trap) whose borders light up by way of battery and are controlled wirelessly. Two of the boxes are wireless the others have cables. The largest unit is automated and lives the farthest upstage rolling downstage when required. This unit changes from being a living room to a kitchen to a bedroom and finally to a night club. The other units are smaller and live either offstage right or left and are operated by the crew. A bit of Tetris has to be played when a couple of these units move off the same direction and because the backstage wings are just wide enough to hold one unit, the first one off has to move upstage after it is out of sight in order for the other to get offstage. And while these units live offstage, crew and cast have to move through them to get anywhere. Props are placed wherever room can be found. Costume quick change stations are also in improvised areas – one being in a disused box seat at stall level but out of audience sightline.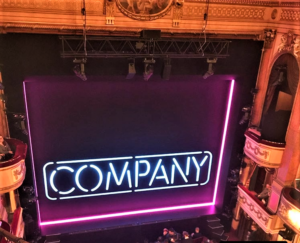 Sharon led me out of the backstage area after noting that the safety curtain had been brought in and out once the house was open so that it was witnessed as working by whoever in the general public happened to be taking their seats. It's a law that this must be done which answered why I would sometimes see the safety curtain randomly come in and out during the half hour leading up to the start of show. We continued up to the calling station – out of backstage left and into the audience area, up some stairs and into a box house right which is hidden from the audience by black curtains. There is a view of the stage from above but most of the show is watched through monitors. There are the usual shots of the front of stage in colour, infrared, video of the musical director, shot of looking stage left from stage right, shot of the trap area, and a monitor feed that allows Sharon to pan in/out from the front of the stage as well as have a view of the audience if needed. Also there are the usual coms station and cue lights set up.
Company rehearsed 6 weeks then had 1.5 weeks of tech before playing to the public – the shortest tech period Sharon has experienced since working in regional rep theatre. To those of us who work regionally, 1.5 weeks sounds like a very long time but West End products – like Broadway – generally have longer. During the course of tech, Sharon could rely on the SM and ASMs to troubleshoot the scene shifts. In practice, the SM who leads the backstage will call the holds to cast and crew which allows Sharon/the DSM, who is in the house, to concentrate on other things with the director and designers. In the meantime, the SM will get everything ready to go again once it is known where they will continue from and let the DSM know once they are ready. In addition, Sharon will discuss any changes with Automation, Flys, Sound and Lights and liaise with the SM as to the physical changes that have to be made onstage before they being a sequence again. Normally the SM and DSM have mapped out the scene changes but on this occasion, the Designer (Bunny Christie) had produced a very detailed storyboard and the Production Manager assisted with the process which was not unwelcome. Sharon noted that everyone on the team is lovely to work with – they have an easy going camaraderie which echoes over the coms even with the simple "standing by" confirmations.
Originally, the SM team* (see end of article for job titles and descriptions) consisted of the CM, DSM, SM, and 2 ASMs then they found the need to have a third ASM who came on board once they had opened. The other members of the stage crew apart from wardrobe consist of 3 crew, 1 stage electrician, 1 automation crew, and 2 flies along with 2 spot ops, the lights, and sound. All of these members are on coms. Not everyone hears each other but Sharon (and I) hear them all. Some of the scene changes require all hands on deck which means one of the flymen even step in if nothing needs to be flown in. There is a backstage union called BECTU** which represents all backstage staff apart from Stage Management, however there is no closed shop in the UK so as with Equity, you do not need to be a member of a union to work. So as a result, there are no territorial boundaries to worry about crossing and protecting in the backstage arena amongst Stage Management and the rest of the crew. The boundaries are more blurred or less strict, if you will.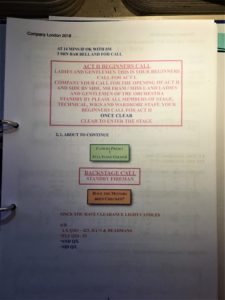 The calling of Company has sections of intense cues and then lulls of quiet especially during the dialogue scenes. Everyone but Lights gets standbys as including Lights would cause more chatter on the coms than necessary. Lights are stood by at the top of each Act for the whole Act. Looking at Sharon's beautifully typed up calling book (each act is in a separate binder – and there is the separate blocking script), I ooo'ed and aahh'ed over the well placed text boxes and color coding. On the opposite of each script page is a list of the cues (LX, SND, Fly, etc) that are called with a description of what each cue does. Sharon does this for all her shows and it's a process that is streamlined now that she's used to what needs to be done.
At this performance, there was a newly trained person operating the lights and though the show has many bump cues often in a matter of seconds, Sharon had a calm confidence that it would go smoothly and it did. Sharon loves to DSM and it's rare for those in stage management to stay in the position as long as she has. The ladder progression tends to lead up to CSM/CM then over to Production Management.  But I could understand why Sharon enjoys her job. Hearing her call the show was an art form. My favorite moment of the calling was listening to Sharon keep count of the music over headset for the crew during a lengthy number where the crew was constantly moving around backstage prepping and activating scene shifts. I found the choreography of this (viewed by monitor) more fascinating than what was happening in front of the audience.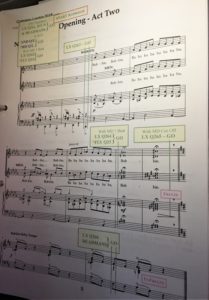 The opening of Act 2 is a 9.5 minute number that just never stopped. Sharon commented afterwards "imagine how long that took us to rehearse" to which I responded that it must be difficult to rehearse this number with the covers/understudies and she confirmed that it was. One of the cast covers Bobbie, there are five other covers who cover 2-3 parts each. They are in two scenes of the show and can easily be cut if they need to go on for their cover. But to rehearse the whole show with just the covers/understudies is nigh on impossible. They can only do chunks. And if someone does go on, they will rehearse certain challenging parts with that person and the cast prior to the performance.
Prior to every performance, there is a fight call and mandatory warm up session. So for a 7:30p curtain, cast is in at 6:15p. As I was touring backstage prior to the show, Sharon pointed out that the crew even did physical warm ups to be ready to move the units. Call times always lead up to "Beginners" (Places) call which is 5 minutes before the show is set to begin. "The cast doesn't mind waiting around past 7:30p if the house hasn't given you the all clear to begin?", I ask – Sharon replied that this is how it's done and everyone works with it. I thought about some of the actors that I work with who would be whining if they were kept waiting backstage longer than a couple minutes before the curtain speech begins. Front of house calls also happen to be the DSM's responsibility. Sharon rings the bell and announces to the audience to take their seats "the performance will begin in 3 minutes" and so on – think "Noises Off". Some venues don't need the SM to make these calls – their FOH personnel will make the calls which makes the DSM's life less complicated.
As far as the SM's duties post opening are concerned, there is very little involvement with maintaining a show from the directorial vantage. Productions tend to have an Associate Director drop by every so often to watch a show and give notes to actors. Sharon will keep an eye on that aspect just in case something morphs that affects the technical elements of the show but will always relay her actor related notes to the Associate Director to give as it's best on this production that there is one voice. The CM sometimes will be able to watch the show from the house if needed as well. In the case of Company, this person does have to lead cast members through the house for entrances to the stage from that area so they are already there to see how the audience is reacting and make note of it in their report – Sharon is not in an ideal position to make much note of audience reaction.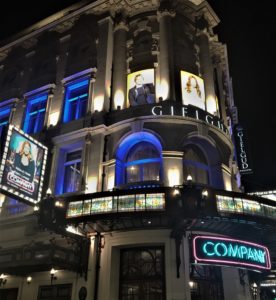 As I listened to Sharon and watched the monitors, I reflected about the mindset of stage management in the UK versus the USA not to mention the pros and cons of Equity in both countries. Sharon reinforced much of what Andy Rowley chatted about when I met with him earlier in the week to discuss the state of stage management in the UK. When the show ended, Sharon packed up her bags and we both wended our way down to the backstage area taking a moment to look at the set in work light and noting all the entourage outside Ms. LuPone's dressing room. I thanked Sharon profusely for her time and willingness to host me and watch her work then departed so that she could do her report and call an end to the long two show day that she had.
One final thing to note – and it's a rather frustrating practice towards Stage Managers in the UK: bios of Stage Managers are not listed in programs. I remarked on this when I met with Andy and he hung his head sighing because it is something you'd think productions would easily include. At the very least, names are listed under production staff but how often does your average theatre goer read that far? In any case, I asked Sharon for her bio so that I could include it with this article and here it is:
Sharon studied Stage Management and Technical Theatre at LAMDA. The early part of her career was spent gaining experience touring the UK and working in Regional Rep, but Sharon soon realised that her interests lay in becoming a career DSM. She has spent most of the last 23 years opening new large scale musicals in the West End. Her West End credits as DSM include, Jolson, Kat and the Kings, Annie, Lautrec, Secret Garden, Chitty Chitty Bang Bang, Thoroughly Modern Millie, Mary Poppins, Oliver!, Ghost and Groundhog Day. Sharon has also worked for the RSC and spent 2 years as DSM at The National Theatre.  She has been lucky enough to work on productions, which have taken her to Canada and Australia.  Sharon is currently DSM on Company at The Gielgud Theatre, London.
* Stage Management Positions in the UK (as described by the UK SMA):
Assistant Stage Manager (ASM – also Tech ASM, 'show crew') The junior grade. ASMs assist DSM's and stage managers in rehearsal, are involved in prop sourcing and making and running a show plot during the show. ASM's will normally be supervised by a more senior SM. ASM's often 'cover' the book and can run a show from the prompt desk after training.
Deputy Stage Manager (DSM – also Showcaller, live event SM, Script supervisor, Tech DSM) Typically runs the rehearsals for the director, and runs the show 'on the book' once the production is on stage, or for a live or corporate event.
Stage Manager (SM – Tech SM, C&SM, Production stage manager) Manages and runs the SM team and the production in rehearsal and on stage.  Has responsibility for efficient scheduling, bringing the show to previews and press night to the director's and producer's requirements, and for the smooth and safe running of the show during the run and on tour.
Company Stage Manager (CSM – C&SM, CSM on the book) Like the SM but also has responsibility for the safety, morale, good performance and professional behaviour of the acting company as well as stage management and other technicians. May act 'in loco for the producer or director during rehearsals, show runs and tours. CSM's often relight shows on tour and also take responsibility for the fit ups at new venues and the high visual and performance standards of the production on tour, giving notes to the company and running additional rehearsals where necessary.  On very small cast and set productions a CSM 'on the book' may work alone or with support from other technicians.
Company Manager Generally a management job working to the producer(s) or general manager(s) and responsible for all aspects of company and backstage crew employment, welfare, morale and administration on a large west end or commercial, opera, ballet, sub-rep or touring show. Duties often include many of the responsibilities of a CSM.
** BECTU stands for Broadcasting, Entertainment, Communications and Theatre Union. More info about this union can be found at bectu.org.uk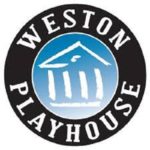 The following article continues a series devoted to stage management training programs (undergrad, grad, internships, etc.) across the country from the perspective of working stage managers who attended them. – Hope Rose Kelly (Editor-in-Chief)
Weston Playhouse Theatre Company – Weston, VT

Stage Management Internship – 2014

By Kyle P. Gillikin and Nicki Berger
This program takes place during the summer stock season and the length of the position was from the end of May until middle August. I interviewed for this position in person at SETC with the Production Manager and Associate Production Manager and then filled out an application following the interview and sent recommendation letters by email. This was a very quick process, due to the nature of  SETC. The position was compensated at $100.00 a week and housing was provided
The duties involved supporting the Stage Management team on 2 or 3 productions throughout the season during pre-production, rehearsal, tech, and performance weeks. Assisting with all rehearsal needs, creation of necessary paperwork, schedules, inter-departmental communications, attending production meetings, taking notes, and sometimes serving on show run crew backstage as needed.  In reality you act as an ASM on the children's musical at their smaller venue and a second ASM for the mainstage musical under the Equity ASM and PSM. You also assist in the upkeep, cleanup and maintenance of work areas, rehearsal and performance spaces, office equipment, assist in other departments as assigned, attend intern meetings, provide support for special events or company projects as needed. There is an intern company of 24, two of which are Stage Management Interns.
Both of the productions I (Kyle) worked on were musicals. A smaller children's musical with Weston's young company (Schoolhouse Rock Live!) and on a mainstage musical (Mamma Mia!). However I was also able to work on a reunion concert they put on that season as part of their 80th anniversary. We rehearsed six days a week with one day off most weeks as well as attending any production and intern meetings as needed. The tech process involved two 10 of 12's followed by two days of morning rehearsals and a preview performance later that day and the second day the rehearsal was followed by the opening performance. Both productions did eight shows a week.
This program offered a great opportunity to dive right in and start working with professionals in the industry while having the large teaching emphasis put into their intern program. You are able to go right into rehearsals for these productions, start working with the rest of the stage management team and learn from them. You can also earn EMC points for some of the work. This program also requires you to attend a weekly intern meeting, where we sit down with one or more of the artists that came in to work on a particular project and speak to them about their lives and/or a particular topic.
Highlights of the experience included living in the housing with a great group of people, a lot of which we are still friends with; being in beautiful Vermont, enjoying the views and being able to disconnect for a little bit; the close community the stage managers make among themselves – we had multiple nights of getting together, sharing a drink and talking for hours listening to everyone's stories; they also offered a stage management round table to anyone who wished to participate; and getting to work with some great people, some of which will let you be in their infamous cabaret. Being around for the 80th celebration was amazing. There are so few theaters in America that have been running that long. We threw a parade, invited past performers out for a cabaret, and had a community celebration. The community and history of Weston is a big part of the experience and it was never celebrated more than at the 80th anniversary.
This program helped me (Kyle) learn how to be a better manager and how translatable all of my skills. Since leaving Weston I have been working as a stage manager for Busch Gardens in Williamsburg, Virginia – starting out there as an event operations stage manager and continuing on to be a show operations stage manager and area supervisor for the park. Almost every theater I have worked at since leaving Weston I have met another technician or performer who is part of the Weston family and it has created great conversations, instant bonding and networking. I'm (Nikki) currently working as a PA at Hartford Stage through connections I made at Weston.
We could recommend this program to anyone looking for more experience working at a professional Equity theatre. Mostly undergrad and grad students, due to the educational nature of this internship and how the people you work with want you to learn and succeed.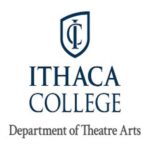 The following article continues a series devoted to stage management training programs (undergrad, grad, internships, etc.) across the country from the perspective of working stage managers who attended them. – Hope Rose Kelly (Editor-in-Chief)
Ithaca College – Ithaca, NY

B.A. Theatre Studies – Concentration in Stage Management – 2013-2016

By Liza Miller

As a graduate of Ithaca College's Theatre Arts Department I regularly implement my education in my work. Before I chose Ithaca, determined to become a stage manager, the only thing I had stage managed was my high school's talent show. My high school was small and there was no theatre department, only a drama club. There were only two backstage crew and everyone else was an actor. I chose Ithaca College because it is located in Ithaca, New York – one of the most beautiful places I have ever been. The city feels like the middle of nowhere but the mountains and the lake are breath taking and there is plenty of hiking. I chose the Department of Theatre Arts because everyone I met was friendly and bright and honestly in love with their school. So…lacking all knowledge of actual stage management ICTA accepted me with open arms and gave me the fundamental skills and practical experience required to succeed after graduation.
Ithaca Theatre Department has five majors. All of them are undergraduate degrees and when I went there (2013 – 2016) if you primarily focused on stage management you were a B.A. Theatre Studies major. You don't graduate with a degree in stage management but there were unofficial paths within the major that a student could choose to follow or not; Stage Management being one. The B.A took four years to complete and you must interview to be accepted into the major. When I applied I had to submit a resume, and a letter explaining why I wanted to be a B.A. I was then contacted by the department to set up an interview. One of the B.A. professors met with me, looked over what I submitted with my application and then asked me a few questions. I was very nervous (which was completely unnecessary) so I honestly don't remember it very well.
Most class years have three to five stage managers but in my year there were ten by graduation. Ithaca has 2 main stage theaters and 5 studios, one of which is a small 50 seat theater. There are 6 main stage productions and an unbelievable amount of student produced productions every year. There are also productions and presentations connected to the directing, play writing and performance classes. The main stages include 3 plays, 2 musicals and 1 opera. Every other year a play was replaced by a dance show. As a stage manager you would be assigned to a production in addition to your daily classes. If you entered the program as a freshman you would shadow an SM team during the fall semester and be a Production Assistant in the Spring. As a sophomore you would be assigned as a PA again or you may become an Assistant Stage Manager depending on your abilities and skills. Junior year you would usually be an ASM or a Production Stage Manager for one of the smaller shows in the studio theaters. Senior year most Stage Managers will PSM a mainstage show.
None of the assignments were guaranteed. Other than the initial shadow assignment all positions were based on merit and performance. At Ithaca there is an Instructor called the Stage Management Production Mentor. They would teach the class "Stage Management I" held every fall semester and also be responsible for reviewing your performance at the end of the show. The reviews were important but fairly relaxed. Everyone you interacted with, student and professor, would be able to submit an evaluation of your skills to the SM Mentor anonymously and then the mentor shared the evaluations in the student's review in a constructive and educational way with a focus on how to improve on mistakes.
One of the amazing things about Ithaca's Theatre Department was that every rehearsal, tech and performance was run like an Equity level production. When I was a PA on my first Off-Broadway production I was happily surprised to find that everything I did as a PA in college was the same as what I needed to do in a professional production. The paperwork was the same, the breaks were the same and the responsibilities were the same. This goes for the ASM and PSM duties at Ithaca as well.
Ithaca College holds classes Monday to Friday so rehearsals would be held 7pm – 10pm, Monday to Friday with a 5 hour rehearsal on either Saturday or Sunday. Tech usually started on a Thursday and went from 7pm – 11pm, Friday was 7pm – 11pm and then there was usually a 10 out of 12 on Saturday or Sunday and then Monday was 7pm-11pm with First preview on Tuesday night.
I felt that the Ithaca College SM program required you to be self-motivated. They give you all the tools and experience you need to start and then they expect you to run with it. The SM mentor was always there to answer questions and supervised tech but you were also expected to be independent and hold your own. You must run the rehearsal room and production meetings and the performances were all on the stage managers. Though competitive, Ithaca was never hostile. I always felt that students had healthy respect for each other even in stressful situations. Professors were always rooting for their students and ready with an encouraging word or constructive criticism. I feel that the program was equal parts education and experience and students had the freedom to make mistakes in a professional setting.
Since graduation, Liza has worked in NYC at Classic Stage Company and Signature Theatre. As of 2018, she gained her card with Actors' Equity Association.
August 17, 2017
I was passing off a show during the tech process in which the incoming SM was working on establishing relationships with the 3 person cast. Halfway through the first day of tech, the lead actor approached me with a flushed face, chills, shakes, and a high fever. We sent him home and canceled the rest of the day after assessing that his temperature wasn't high to be a danger and he refused to go get himself checked out – which would have been at the ER as it was in the evening. Next day, it was clear he wasn't well still and he didn't refuse the idea of seeing a doctor who determined that it was a stomach virus. Bed rest was ordered for 2 days which meant cancelling the first preview. This actor woke up the next day insistent that he was well enough to proceed forward and finish teching along with doing the first preview. After a couple hours of rehearsal, the incoming SM saw how unwell he still was even though he insisted he was fine. She sat him down and said "I need to trust that I can safely send you out on the stage without you falling over. Can you honestly tell me that you will make it?" The Actor took a moment, realized the seriousness of the situation and the care this new SM had for him and answered that he needed more rest. Preview was cancelled and after another day of rest, the Actor was well again to perform at the next scheduled preview.
Stage Managers have your back and want you to be safe and well!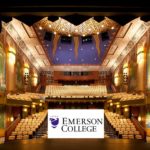 The following article continues a series devoted to stage management training programs (undergrad, grad, internships, etc.) across the country from the perspective of working stage managers who attended them. – Hope Rose Kelly (Editor-in-Chief)
Emerson College – Boston, MA

BFA Stage & Production Management – 2013-2017

By Jessica Kemp

I come from a very small town in Upstate New York – the Adirondacks. My big sister introduced me to the world of théâtre and dance, but I eventually fell into stage management after I watched a scene change in a community theatre production of The Sound of Music take five minutes and cringed. I never fully committed to any trade. I balanced dance, stage management, vocal performances, and acting throughout my high school years. When it came time for me to think about life after high school, I had no clue, which is perfectly normal! I knew I wanted a small college. Large groups of people overwhelm me and I enjoyed my small hometown class size. The thought of a huge campus that took 30 minutes just to walk across terrified me and because of dance, I learn better in a one-on-one situation. My years of school and dance also made me realize that I'm a tactile learner and I have never been one to enjoy down-time for more than a few days.
EMERSON COLLEGE – THE SCHOOL IN A SNAPSHOT.
Emerson College is a small "liberal arts" college in Boston Proper with roughly 4,000 students on its campus. I say "liberal arts" because the BFA Stage & Production Management track itself is really a conservatory. The campus is the size of two blocks along Boylston St. with a Los Angeles campus and a castle in the Netherlands where you can study abroad. There are a few main schools within the college: Visual Media Arts (aka film); Writing, Literature, Publishing; Journalism; Communication Studies; Communication Sciences & Disorders; Political Communications; Marketing Communication; Liberal and Interdisciplinary Studies; and the Performing Arts. The BFA Stage & Production Management major lives within Performing Arts and all Performing Arts majors are Fine Arts majors – there is no BA option. Most students are undergrads but there are a few masters programs in each school. You can create your own major (called IDIP) if you don't find a perfect fit and even dip into Entrepreneurial Studies. Emerson can fund your great new business and help you get started.
The culture at Emerson is to always be on the go – there isn't a lot of down-time, and most people at Emerson like it that way: have an internship, be in five student organizations, go all the way in a class project, hold a job, study. I found that most people here have set their goals very, very high; they come in knowing what they want to do. There is a lot of creative energy. It's exhausting and exhilarating at the same time.
It is difficult, as a performing arts major, to transcend and break into any other schools or fields, but extra-curricular activities are in abundance and minors are relatively achievable. You can work at a radio station or on live-broadcast TV shows put on by students, be in an a capella group, help with student-produced films. I chose to minor in American Sign Language. The Emerson Experience is what you make of it. No two Emerson educations are exactly alike.
BFA STAGE & PRODUCTION MANAGEMENT – AN OVERVIEW.
Emerson College has a tremendous technical theatre program. It's not something I, or my beloved colleagues, quite realized until we went out into the real world. Below are some of the highlights of the college, the BFA Stage & Production Management degree, and other opportunities available to you at Emerson.
The Woman in Charge of the Program. The Stage & Production Management department is headed by our fearless leader, Debra Acquavella (from here-on Deb). She is an artist with a vast wealth of knowledge in regional and commercial theatre which will benefit your education.
Classes. You are required to take four stage management classes, one production stage management class, one arts management class, and some craft classes to learn what carpenters, electricians, and stitchers do on a daily basis. The Performing Arts department requires that you take a few overview theatre classes and that's where you'll meet your fellow acting, directing, and technical theatre majors. As you see, this major is highly stage management skewed, but the production management class is taught by a real-life production manager who comes in on his day off to teach and you work alongside a production manager daily.
Emerson Stage. Emerson Stage is its own little beast. Based off of the LORT model, Emerson Stage is a "company" that produces theatre all year round so students can gain practical experience. The General Manager, Assistant to the General Manager, Production Manager, and directors are all staff members. Students learn how to create theatre through Emerson Stage with assignments and guidance from an advisor. Though involved every year, Stage & Production Management students receive credit for these Emerson Stage shows junior and senior year – and they are involved in both stage management and production management capacities (we call these production management positions production supervisors). You start from the bottom in both tracks and work your way up to stage manage and/or production manage your senior year. Emerson Stage produces a variety of work which gives students access to classic plays, a fall musical/revue, a spring musical, and a spring month-long festival of new works by student and professional playwrights. When Stage & Production Management students receive class credit for the productions you will meet with Deb once a week in a class called Production Projects. In Production Projects, you discuss challenges within your own show as well as your classmates. Deb will encourage you to work in the props department on one of these shows, and some Stage & Production Management students have even gained experience in the sound and lighting departments. The more experience you get in each field, the more it will aid you as a stage manager.
Student Theater Organizations. Alongside Emerson Stage, some people find their theatre communities through student theater organizations. These are completely student produced works, where anybody can dabble in any field. Journalism majors can audition, marketing majors can be in a dance troupe, and a stage manager can try their hand at lighting design. It's really quite incredible to see the work done for and by your peers. These are extremely low budget productions that tech in a few hours and are open for a couple of performances. You are not tied to a supervisor/advisor in these organizations, and your first year at Emerson you will need permission from Deb to participate in a production or stage management capacity. This isn't as cruel as it sounds. The first year of college is a lot, this program is a lot of time and effort, and these student productions will take you by storm if you aren't prepared. She wants to make sure you have the groundwork laid out for your own mental and physical health before you explore student theatre.
The Theatres & Rehearsal Space. Emerson has a surprising amount of room for such a small campus. Emerson calls six theaters home, and has nine studio/rehearsal spaces and countless private practice rooms across its campus. The Greene Theater is your traditional 100-seat proscenium theater, the Semel Theater holds a bit more and is a ¾ thrust. The Jackie Liebergott Black Box molds to whatever shape the designer and director decide. The majority of Emerson Stage productions will happen on these stages. Student theater organizations will produce most of their work in the Cabaret (the Cab), which is a smaller black box theater. The Paramount and Majestic Theatres are the largest stages and have the largest houses, but are kept busy throughout the year with ArtsEmerson productions. Emerson Stage traditionally puts up one show in the Paramount and one in the Majestic each year. Emerson College also owns The Emerson Colonial Theater, which, in its heyday, was home to many Broadway tryouts (Bob Fosse tap danced on the table – there's still a chip). In 2018, the Ambassador Theatre Group will have a lease on The Colonial opening with Moulin Rouge. 
Internships and Outside Work. A large portion of your education will be outside of the Emerson bubble. While it isn't required, you will most likely obtain an internship or outside experience of some kind in the Greater Boston area. Some of these experiences are paid and some of them aren't. During my time at Emerson, my classmates worked at Huntington Theatre Company, American Repertory Theater, Actors Shakespeare Project, Central Square Theatre, Speakeasy Stage Company, Lyric Stage Company… the list goes on. These opportunities are invaluable, attainable, and encouraged. This business is incredibly small and someone with a connection to Emerson works at each one of these amazing companies. You will also be encouraged to do theater in the summer by way of internships or jobs, but it is important to remember that these are not necessary. While they are great for your career and you will come back to the fall semester having grown so much, your mental health is also important. If you need the summer off, you need the summer off.
Studying Abroad. You can certainly study abroad, but as a Stage & Production Management student, you have to prepare ahead of time for this. The most popular place to study abroad is in the Netherlands. Emerson owns a castle called Kasteel Well. In this program, you are in Europe for a fall, spring, or summer semester, and you travel to different places on the weekend. Food is not offered at the castle on weekends, basically encouraging you to go elsewhere. For those who went, I know it drastically changed their lives. They forged new friendships and learned more about themselves than they ever thought possible.
Stage & Production Management students can only attend the fall semester of their sophomore year. This is just the way it works out given all the different classes you have to take to earn your degree. I did know a student who went in the summer session, but class selection is extremely limited. Here's the other catch: it's a lottery system. A certain percentage of Performing Arts, Journalism, WLP (and so forth) students are selected to go at random. I was number two on the wait list when I left my freshman year. If people had dropped out, I could have gone. The college also encourages you to have $6,000 set aside for your semester, so get that second job now.
Another popular place to study away from Boston is Emerson Los Angeles. This is our Los Angeles campus that typically gets you an internship in the film industry. A Stage & Production Management student was the first to go in my time there and she worked as an executive assistant. If you're interested in the west coast, the film industry, or want to find other ways to develop leadership skills, I highly recommend this. There are, of course, other places to study abroad!
The ProArts Consortium. This is an incredible opportunity that I, honestly, never took advantage of. At the most basic level, a bunch of art schools in Boston got together and said, "Sure! We'll take some students from your school if you take some students from our school for a class and still have those credits count. Why not?" This means that if you're interested in taking dance classes at Boston Conservatory/Berklee, you most likely can. A classmate of mine took a bookmaking class at MassArt.
THE APPLICATION PROCESS.
The Application. Emerson holds their application on the CommonApp and will require some supplemental materials. There is the opportunity to apply for their Honors Program there as well, which requires more writing. You will apply to the school and schedule an interview separately.
The Interview. Emerson College has an interview process. You must be accepted into the school and accepted into the program separately. Deb travels to different cities throughout the year and conducts interviews in NYC, Chicago, and Boston. You can even phone in internationally to speak with her. You'll have to come to your interview with a 1" portfolio of your work, including pictures and any documents that you've worked on. Don't bring in an entire prompt book, but bring in some complicated blocking pages if you have them. Did you make a calendar? Put that in too.
Deb's interview stuck out amongst the rest of the other colleges. It was the first interview I had that wasn't in a sterile room. Her office has personality, and her bookshelves show history. Deb doesn't just look to see what you already know. She just wants you to succeed. In fact, she'll breeze through your portfolio and then set it aside to talk to you. She looks to see if you're a good fit for the school and for her department. She wants to get to know you, not just your work, in those few short minutes. Freshman year, her students will start from different spots on the path but her goal is to get you all walking together down that yellow brick road. You will work one-on-one with this woman for four years. Interview her as much as she does you. Just be yourself walking into that room, because that's what she wants to see
How about those Standardized Tests? Academics are important to get into the college. Emerson doesn't expect you to have a 4.0 in high school, but they do expect you to care about your studies. So study for those SATs and study before your tests. You can apply to be a part of the Honors Program, which cuts your tuition in half. If you choose this, you must write a thesis in order to graduate and will take classes that are only held for Honors students
OKAY, OKAY. BUT FOR REAL. ARE THERE ANY CONS?
Like all schools, of course there are. My main concern with the college is that I believe they are looking to expand their student population. There are more students than the college and its facilities can currently hold, and that causes extra stress on everyone. The student to professor ratio is increasing while the classrooms themselves are staying the same size, so it's a tight squeeze most of the time.
Without a doubt. While everyone at some point has some issues with the college – this will happen anywhere you go – the education I received at Emerson is incomparable. This program is strong and there will be no need for you to attend a graduate school, though an apprenticeship after graduation isn't a bad idea just to break into the industry. As alumni, we emerge ready to jump into the field and ready to swim. The program boasts of alums continually working on and off Broadway (Miss Saigon, The Band's Visit, Sleep No More), Cirque De Soleil's Michael Jackson One in Las Vegas, tours like Rent and The Book of Mormon, TV live productions (Peter Pan), regional theaters all over the country, and so much more. The fact that you are able to take hold of your own education while at school truly means that you are able to take hold of your future.
Deb and the rest of the Performing Arts faculty really do care about each and every one of their students. Personal connections are made over the course of four years that won't go away. The program not only focuses on your career, but also on your life. The trust and support you gain and create with your classmates will continue to grow after you leave Emerson. Their successes are my successes, too. I found the second family I didn't know I needed.
Jessica Kemp is currently a Stage Management Apprentice at Actors Theatre of Louisville where she is now overcoming her childhood fear working on a fun new number called "Little Bunny Foo Foo".