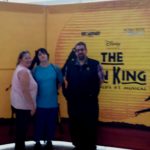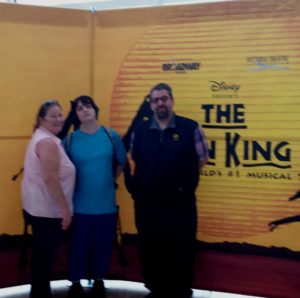 My sister, Julie Johnson, works for some very special clients. One night she called to ask, "Do you know anyone who works with The Lion King?"  It turns out that she had been in communication with a family from Ohio whose young son, Zeke, had a BIG WISH: to be able to go and see The Lion King.
I thought of Zoya Kachadurian, a stage manager who had sent me a "headshot shot" taken backstage at The Lion King I emailed her and she sent me contact information for the tour stage manager, Matt Shiner. It just so happened that the tour was going to be performing very nearby where Zeke and his family lived so I put the two in touch and frankly, I forgot about it: in this business it is just what you do.
A couple of months later, my sister called a second time. Matt had contacted Zeke and made arrangements with him to attend the show.  Zeke has a condition that makes necessary special accommodations for him to attend this sort of public experience but Matt was on it; he met the family before the show, gave Zeke a sort of a preview of what he was going to experience and gave Zeke his biggest wish.
I received this note written by Julie and photos from the family: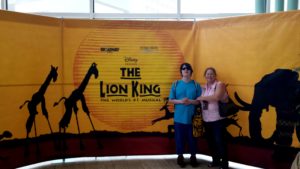 This was a fantastic experience and we could not thank you enough for introducing us to this wonderfully accommodating man!
Zeke has wanted to do something like this for a very long time – really his dream! With his challenges related to his disability, the over stimulation issues; any change in a routine schedule can be very difficult for him to overcome.  He needs to prepare and be made comfortable with any change to allow him to participate without a great deal of anxiety.  The way he was treated, helped to transition and know what was coming was an amazing experience that we have not had before. We were not only amazed by what a wonderful person he is (Matt Shiner) but the show was incredible.  This was a life moment that will never be forgotten.
Thank you to everyone who helped to make this happen created an amazing memory for Zeke and our family that we would have never had without you.
This is the truth about show folks. A person in Minnesota finds out someone in Ohio needs help, people from NYC make it possible. There is no folk like show folk, they are some of the best people in the world, willing to share the great fortune we have to work in this special business.  Thank you to Matt, to the Company of The Lion King and to Zoya for making this possible.