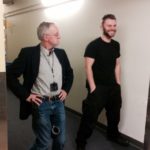 Joe Drummond, USITT honored him with the Distinguished Achievement Award in 2017.                                                                                               .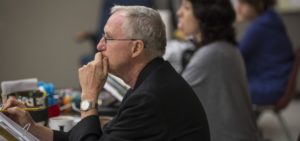 The Board and membership of the SMA are pleased to congratulate Central Region Representative, "Old" Joe (Hash tag) Drummond on being awarded the 2017 USITT Distinguished Achievement Award in Management.  The Award, a lovely plaque, was presented to him by SMA member and Management Commissioner Tina Shackleford at this year's USITT National Conference and Stage Expo in St. Louis, Missouri.  Joe also received a chocolate cake courtesy of SMA student member Madison Smith, who hails from Capital University.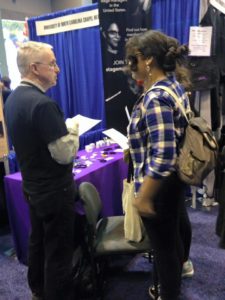 Joe was a very active participant at USITT this year. He spent a significant amount of time at the Expo in the Stage Managers' Association booth, at SMA meetings and attended our Social Night Out at Bailey's Ridge in St. Louis, where a record-breaking 90+ stage managers attended.  He also served as a mentor to a young stage manager throughout the week as a part of the USITT Fellows Early Career Mentoring program.  On Thursday morning, Joe, along with all of the Distinguished Achievement Award winners for 2017, was introduced to the conference and featured in conversation with Board members Kevin Rigdon and Michael Mehler.
Joe recently retired after 42 seasons with the Goodman Theatre in Chicago where he served as ASM, Stage Manager and then Production Stage Manager. He is an institution in Chicago Theatre where he also taught stage management at Roosevelt University for 21 years.  He has been a proud member of Actors' Equity Association for 45-years.
CAREER:
Joe hung up the stopwatch at the Goodman Theatre with the closing of 2666. This was a production adapted from what the Goodman Theatre artistic director Robert Falls called one of the great novels of the 21st century.  The production, based on a 900-page novel, featured hundreds of characters within the pages of its five parts.  Drummond effectively, and with good humor, helmed this Goodman Theatre Production that required two directors, ran 5 1/2 hours, had three intermissions, a cast of fifteen and a price tag of nearly $1 million.
Previous credits include 133 Goodman productions, among them The Iceman Cometh (also at BAM), Death of a Salesman (also on Broadway in 1999 and at the Ahmanson Theatre in Los Angeles), and Glengarry Glen Ross (Chicago and Broadway), plus 12 productions of A Christmas Carol.  He also shared his skills, teaching at Roosevelt University for 21 years.
A very proactive member of the Chicago theatre community, Joe has, for a number of years served as the regional representative for the national Stage Managers' Association.  In that capacity, he has organized numerous gathering for the Kick Ass Chicago Stage Managers group. We know him as a resource for newcomers to the Chicago theatre scene and last year, he, along with fellow Chicagoan Barbara Butts, were responsible for a very successful View from the Wings, Chicago that drew stage managers, pros and students, throughout the region, to a sold-out event that was held in conjunction with the SMA and Steppenwolf theatre. He and Butts are in the process of planning their second conference, to be held in the fall of 2017.
AWARDS AND HONORS:
Joe received a Chicago Joseph Jefferson Award for Lifetime Achievement after 25 years of stage management at the Goodman.
In December 2011, Drummond received the Del Hughes Award for Lifetime Achievement from the Stage Managers' Association.
Upon his retirement from the Goodman, the Chicago theatre community selected Joe to receive the Corona Award.  The Corona Award honors an individual who has played an important role in supporting and nurturing the growth of the Chicago theater community as well as small– to medium-sized ensembles. Past Corona Award Recipients include Chicago casting director Jane Alderman, Timeline Theatre Managing Director Elizabeth K. Auman, Former Steppenwolf Associate Artistic Director Erica Daniels, Goodman Theatre Associate Producer Steve Scott, Goodman Theatre Resident Director Chuck Smith, League of Chicago Theatres Executive Director Deb Clapp, and Mary-Arrchie Artistic Director Richard Cotovsky.
WORK LIFE BALANCE: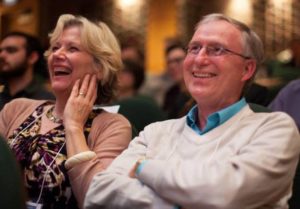 A family man, Joe has always paid great attention to work-life balance (even before it was a buzz word), planning annual family vacations, anniversary trips with his wife and most recently taking on the role as father-in-law with the marriage of his oldest son. (pictured here is Joe and his wife Sarah)
WHAT COLLEAGUES SAY ABOUT JOE:
Robert Falls (Goodman's Artistic Director since 1986) says, "Joe has been an invaluable asset to the Goodman for many decades. His undeniable talent and unique charm improved the day-to-day lives of our staff and left an indelible mark on the hundreds of artists who had the pleasure of sharing a project with him and the thousands of audience members who witnessed the magic he helped bring to life on stage. Joe defines the term "one of a kind," and anyone who has worked with him knows exactly what I mean by that."
Phil Vettel wrote of Drummond in a 1987 Chicago Tribune article about the Goodman's A Christmas Carol, "… as dress rehearsal begins, Drummond is the busiest man on stage even though his feet rarely move."
Joe is truly an artist.  His commitment to the art of stage managing was evident when he was doing Cyrano with director, Michael Maggio.  In that production, there was a very complicated fight scene.  Michael enjoyed Joe's cue-calling on that particular bit so much that he delighted in being on headset just to hear him call it.
JOE SPEAKS:
As for Joe, he's "grateful to Roche Schulfer and Bob Falls for the opportunity to hone my stage management skills along side so many talented staff members and artists."
In an article about Stage Managers published by Backstage magazine in 2001 Joe opines, "You have to want to do this because you just plain want to.  Your satisfaction comes from seeing the production turn out well."
Drummond observes, "When I became involved with the theatre professionally in the '60s, I didn't even know there was such a thing as a stage manager who was responsible for the running of a show. I don't think stage managers were even mentioned during the two years I spent in acting school.  Now many university theatre departments offer majors in this area."
His very best advice to stage managers?   "Always carry a fork; you never know when you might encounter a chocolate cake."